Neb. first responder fights city over use of PTSD service dog
Rob Ravndal hopes sharing his experiences grappling with PTSD and trying to continue his career will help reduce the stigma of the disorder
---
By Riley Johnson
Lincoln Journal Star
LINCOLN, Neb. — Paramedic Rob Ravndal went on hundreds of emergency calls before the one response that ultimately ended his career at Lincoln Fire and Rescue.
The trauma of that call, a 3-year-old's drowning in 2015, sent the father of young children into a spiral.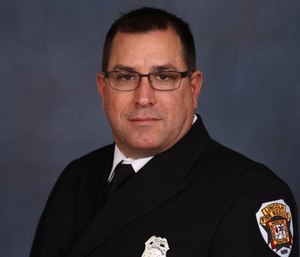 Nightmares. Breakdowns. A general sense of fear.
Even after his bosses pulled him off the ambulance, Ravndal struggled at work and at home as he grappled with post-traumatic stress disorder.
One of five firefighters or paramedics nationwide will suffer from PTSD during their career, according to the Journal for Occupational Health Psychology.
Ravndal sought treatment, eventually becoming the first Lincoln firefighter to use a service dog. But he never returned to full-duty and ended his nine-year tenure in October, walking away from the job the he said made him feel like a superhero.
Ravndal, 46, hopes sharing his experiences grappling with the disorder and trying to continue his career will help change the culture toward first responders experiencing PTSD.
"If the people don't do something to change it, they can't be upset if they call 911 and nobody comes," he said.
The injury
Lisa Ravndal could tell her husband loved his job when he joined the force in Lincoln in 2009 after serving as a paramedic in Gillette, Wyoming.
Rob Ravndal, she said, was passionate about the work he did out of Station 8 in Irvingdale and "it showed."
Ravndal was well-liked and well-respected among his peers, Lincoln Firefighters Association President Adam Schrunk said.
He was one of a few paramedics trusted by Lincoln Fire and Rescue to perform an emergency medical procedure, rapid sequence intubation, a high-risk technique to preserve an airway in patients with life-threatening injuries, Schrunk said.
"It's a lot of fun being Superman," Ravndal said of the paramedic job.
But in October 2015, Ravndal was called to a home where a 3-year-old child had drowned. His daughter had just turned 3.
Just how much that call changed him wasn't immediately apparent to Ravndal or his family.
But two weeks later, he was crying for no reason, waking up in the middle of the night. His nightmares grew in intensity. So did his anger.
One day, he broke down while on-duty in the garage of his station.
"Every time that the tones (for emergency calls) went off, I had this feeling that the whole thing was going to happen again," he said.
After talking to his captain, he went to see the Employee Assistance Program counselor. In those sessions, he felt anxious about his participation and worried notes would be shared with his superiors.
Still, he continued working on the rigs and continued the sessions for 18 months, until his symptoms got worse. Though he was seeing the counselor, he wasn't receiving treatment, Ravndal said.
"After that (call), I literally lost my soul," he said. "I was just a shell."
Finally in May 2017, he connected with a therapist in Omaha who specializes in working with first responders. She told Ravndal to take time off because he needed to heal.
But ineligible for injury leave, he burned through sick time and vacation time until August, when he took family medical leave, Ravndal said.
Ravndal had already hired an attorney and filed a worker's compensation claim that June, but he wasn't treated the same as firefighters who suffer physical injuries in the line of duty, he said.
State lawmakers in 2010 extended workers compensation coverage to mental injuries suffered by first responders in the line of duty. But injury leave for a mental injury suffered in the line of duty wasn't specifically mentioned in the city's contract with the firefighter's union.
Fire Chief Micheal Despain, who was hired in 2016, declined to comment on Ravndal's case, citing the personnel issue.
The primary wage earner in his household, Ravndal had to return to work "because the city had not taken any ownership of my injury," he said.
On Sept. 1, 2017, he returned to work on light duty.
And despite his sessions with therapists and the aid of a specialized six-day retreat in California, being at work made his life harder.
Doing paperwork and running errands for the fire department weren't the difficult, grueling shifts he'd worked as a paramedic, but Ravndal said he continued to struggle at home and on-duty.
"It was hard; it was exhausting."
'Living one hour at a time'
By November 2017, Lisa worried about her husband every day she went in to work as a substitute teacher.
That summer, she'd noticed he'd been separating from his family, gaining weight, sleeping all the time or not at all.
While on light duty, he'd call in sick some days when his anxiety proved too much, and Lisa felt uneasy.
What would happen on the days she left him by himself, she thought: "We're hunters. We have guns."
That year, first-responder suicides in the U.S. exceeded all line-of-duty deaths for police officers and firefighters, according to a study released in April 2018.
One night around Thanksgiving, Ravndal had deteriorated to the point his friends at work intervened.
He had called out sick, and they went to his home asking him to get help.
"The day they came over, I was just living one hour at a time," he said. "I would get to 12 o'clock, and I'd be like, 'OK. I can hang on 'til 1.'"
Ravndal sought admission to Lasting Hope in Omaha Nov. 30 and received mental health treatment there for several days before he was accepted for treatment at the International Association of Fire Fighters Center for Excellence in Maryland.
In Lincoln, his coworkers rallied in support, working overtime to cover his shifts so the Ravndal family could continue to receive a paycheck while he was away. An online crowdfunding platform raised more than $8,000.
And in Texas, on the recommendation of Ravndal's therapist, a trainer prepared a black and tan coonhound to be his service dog, capable of quelling anxiety attacks and managing his PTSD symptoms.
He arrived home Jan. 13, 2018, with new coping strategies, awaiting his service dog's arrival.
He researched how paramedics like him in other states had brought their service dogs to work, offering hope that he could resume his life-saving career.
"Why should this be a big deal?" Ravndal recalled thinking. "It's the law."
Ravndal's return
On Jan. 10, 2018, Ravndal emailed Despain and asked for accommodation for his service dog under the Americans with Disabilities Act. He explained the dog would remain kenneled at the station and would not go on any emergency calls. Ravndal would provide its kennel, feed and any necessary housekeeping.
The next day, Lincoln's fire chief responded that he was exploring the issue and told Ravndal, "Hope to see you back here soon."
City officials declined to answer specific questions, but emails Ravndal provided to the Journal Star offer insight on his request for accommodation.
After follow-up emails to Despain, the city's human resources staff and City Attorney Jeff Kirkpatrick's office, his request was acknowledged, but an answer didn't come until Feb. 2.
In an email that day, Assistant City Attorney Don Taute told Ravndal the city needed more information from his doctor and therapist addressing his ability to return to full-duty.
"Leaving aside for the moment your question about a 'service dog' which you characterize as a request for a reasonable accommodation, the first matter to be addressed is your work status and whether you can return to work at this point in time," Taute said.
Meanwhile, Ravndal found an instant connection with Pride, the coonhound that arrived on Feb. 1.
Pride would get between other people and Ravndal to give him a sense of anxiety-reducing protection. When he'd sense an attack coming, Pride would get up on Ravndal's lap, applying a deep pressure therapy that calmed him, he said.
"He's the perfect dog for me, and I'm the perfect person for him," Ravndal said.
On Feb. 20, Ravndal again asked to discuss bringing Pride to work, but he was told that city officials were still talking it over and needed other information about his medications.
The next day, Ravndal faced a pivotal decision. He had to show up for work on light duty — without Pride — or be terminated because his time under the Family Medical Leave Act had expired.
So he went to work.
On Feb. 22, Taute told Ravndal his light duty was the accommodation being made for him, since he wasn't able to return to full duty.
The debate continued, even as Ravndal completed simple tasks.
His therapist, Stephanie Levy, began pushing for Taute to allow Ravndal to bring Pride to work, stressing the service dog's role in helping him to return to full duty. Taute asked whether Ravndal would be able to perform his paramedic duties on the scene without his service dog.
"I am saying (Ravndal) is not able to even try full duty at this point because his symptoms are too severe," Levy responded. "I'm hoping with having (his) service dog on light duty his symptoms would stabilize and help (him) progress to full duty."
A month later, Ravndal, a staff attorney from Disability Rights Nebraska and others met with city officials. And on Aug. 27, Taute sent an email approving Ravndal's request to have his dog at work for up to six weeks.
"In summary, the City is willing to allow the requested accommodation, but there must be considerable progress exhibited during the time the dog is with Mr. Ravndal in the workplace," Taute said. "The modified duty assignment cannot continue for an indeterminate amount of time."
Ravndal rushed home to pick up Pride. They were a team for a month, until time ran out.
After a year on light duty and still not cleared to return to the ambulance, Ravndal needed to retire or be fired for exhausting his time on modified assignment.
Ravndal loves the department, but not the way he was treated.
"I may have gone back to the rigs," said Ravndal. "What is clear is that I tried to go back, and City Hall would have no part of making an accommodation."
'Thank You, Rob'
Retiring wasn't what Ravndal had in mind, but by September 2018 he was ready to move on.
Those who turned out for the retirement party organized by his wife and coworkers left him humbled.
The circumstances weren't like other firefighter retirements he'd attended, but everyone from recruits to the fire chief stopped by, he said.
In the days after, he reflected on his fight with the city and what it all meant.
"I did not cower," Ravndal said. "I recognized a just fight, and I did not cower."
The city conceded in the worker's compensation case that Ravndal's PTSD was caused by his work duties and settled the case in September.
"It is the City's position the handling of Mr. Ravndal's case was done completely in compliance with the law taking into consideration the factual circumstances and medical information available throughout the pendency of Mr. Ravndal's case," Taute said in an email response to the Journal Star. "The matter has now been voluntarily settled by the parties, and Mr. Ravndal is currently receiving full duty disability benefits pursuant to the provisions of the City's Police and Fire Pension Plan."
Stephany Pleasant Maness, a staff attorney with Disability Rights Nebraska, said employers asked to provide accommodation to an employee with a disability often take six to eight weeks.
"It shouldn't have taken 8 months," she said.
The city's reversal to allow the service dog at work in August, four days after a meeting, showed they didn't handle his case as they should have, Pleasant Maness added.
Pleasant Maness said she believes there's a public suspicion of service animals, and she hopes city staff will better educate themselves on how to accommodate these requests so workers with disabilities aren't mistreated and left out of the workforce.
Despite his strong belief he was discriminated against, Ravndal doesn't want to file a lawsuit against the city, he said.
Instead, Ravndal wants the city to treat mental injuries that first responders suffer on the job just like physical injuries sustained in the line of duty.
The work the city asks first responders to do every day, on every call, demands they be cared for if they're injured in the line of duty, he said.
Schrunk, the union president, said the city's lack of experience on this issue shows the need for ongoing consideration of the mental health of firefighters.
At Lincoln Fire and Rescue, Despain noted investment in professional counseling services, internal peer-counseling and debriefings. Assignments are rotated to help crews deal with mental health issues.
An initiative to increase staffing is reducing the net workload, Despain added.
Since his retirement, Ravndal has focused on rebuilding the relationships with his family and considering the next step in his career. He's receiving a monthly disability pension from the city under the fire pension plan for permanently disabling line-of-duty injuries.
And wherever Ravndal goes, the store, the doctor's office, the gym or church, Pride is often right beside him.
"I still have bad days," Ravndal said. "(Pride) doesn't cure it, but it definitely makes it far easier to go and do things ... and just stay focused. Life itself is not simply survival."
Copyright 2019 Lincoln Journal Star
McClatchy-Tribune News Service