FDA approves first generic version of EpiPen
FDA Commissioner Scott Gottlieb said the approval is part of a "longstanding commitment to advance access to lower cost, safe and effective alternatives"
---
By EMS1 Staff
WASHINGTON — The U.S. Food and Drug Administration approved the first generic version of EpiPen to treat allergic reactions.
According to a press release, Teva Pharmaceuticals USA was approved to sell a generic epinephrine auto-injector to adults and pediatric patients who weigh more than 33 pounds.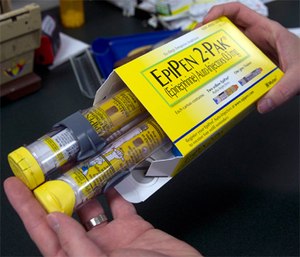 "Today's approval of the first generic version of the most-widely prescribed epinephrine auto-injector in the U.S. is part of our longstanding commitment to advance access to lower cost, safe and effective generic alternatives once patents and other exclusivities no longer prevent approval," FDA Commissioner Scott Gottlieb said. "This approval means patients living with severe allergies who require constant access to life-saving epinephrine should have a lower-cost option, as well as another approved product to help protect against potential drug shortages."
Gottlieb added that products such as EpiPen "can be hard to copy, and therefore sometimes don't face timely generic competition."
The FDA is working to speed up the generic product development by "prioritizing review of many complex generic drug applications" and "advancing new guidance for sponsors," according to Gottlieb.