Paramedic Chief Digital: Defining EMS providers' role in the opioid epidemic
This issue features articles on the opioid epidemic's impact on responders and how EMS is leading the charge in the post-overdose survival phase of the addiction cycle
---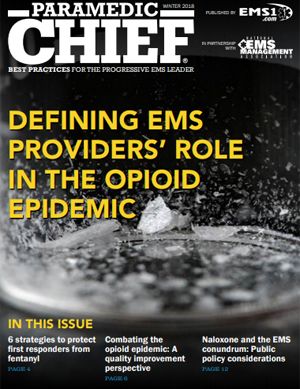 Despite national recognition, widespread access to naloxone, and millions allocated to grants to combat the opioid epidemic, drug overdoses are the leading cause of accidental death in the United States, killing an estimated 60,000 people in 2016. 
In this issue of Paramedic Chief, learn from EMS pioneers who are piloting community paramedicine and mobile healthcare initiatives and leading the charge for EMS in the post-overdose survival phase of the addiction cycle.
Inside the issue, you can read about:
Strategies to protect first responders from fentanyl
How to combat the opioid epidemic from a quality improvement perspective
What community paramedics need to know about the opioid epidemic
Public policy considerations for naloxone
How the opioid epidemic is impacting responders
Read these and more articles inside. You can view the issue as a digital magazine or download as a PDF.