Toxicologist: 'You can't just touch fentanyl and overdose'
Viral video appears to show a San Diego County Sheriff's deputy collapsing from a fentanyl overdose
---
By EMS1 Staff
SAN DIEGO — A toxicology physician and a paramedic are expressing doubts about a viral video released by the San Diego County Sheriff's department that shows a deputy falling to the ground after investigating a white powder in a vehicle. The video shows the deputy collapsing and then receiving multiple doses of intranasal naloxone from his training officer before being loaded into the ambulance. 
"My trainee was exposed to fentanyl and nearly died," Cpl. Scott Crane said in the video, which is embedded below.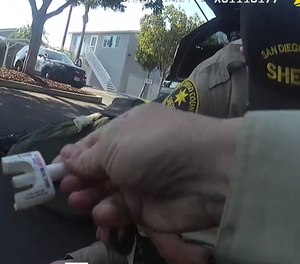 "We have a lot of scientific evidence and a good knowledge of chemical laws and the way that these drugs work that says this is impossible," Ryan Marino, medical director for toxicology and addiction at University Hospitals in Cleveland, said in an NBC News interview.
"You can't just touch fentanyl and overdose," Marino said. "It doesn't just get into the air and make people overdose."
Peter Canning, a paramedic and author, called on the sheriff to retract the video in a Tweeted response to Marino. "While (I) appreciate #lawenforcement efforts and know of #fentanyl's danger, this is clearly not a fentanyl #overdose. Sherriff, retract video."
Canning, is the author of the "Killing Season: a paramedic's dispatches from the frontlines of the opioid epidemic," and encouraged readers to understand how these false narratives are a risk to public health. 
The Dangers of Fentanyl - San Diego County Sheriff's Department from San Diego County Sheriff on Vimeo.
---

Learn more
How to buy fentanyl protection products (eBook)
Download this EMS1 fentanyl protection products buying guide to learn key steps for product selection, purchasing and implementation
---