Pa. EMS, police alerted to danger of elephant tranquilizer that killed 2
Officials alerted staff members last week to start wearing masks and gloves when dealing with suspected overdoses
---
By Tom Fontaine
The Pittsburgh Tribune-Review
BEAVER COUNTY, Pa. — One of the strongest opioids available has claimed its first lives in Pennsylvania, with officials in Beaver County blaming two recent overdose deaths on carfentanil, which is used as a sedative for elephants and other large animals.
"Logic would say, 'Run away from it.' But on the street, people say, 'I want that,'" Dr. Neil A. Capretto, medical director at Beaver County-based Gateway Rehab, said of the synthetic drug's potency.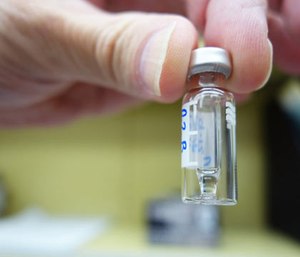 The local deaths are the first to be linked to carfentanil in Pennsylvania, said Beaver County Coroner David Gabauer, who confirmed the first one happened in Beaver Falls in late November and the second in New Brighton in mid-December.
Gabauer did not provide any information about the victims, citing an ongoing investigation by state police and the Beaver County District Attorney's office. DA David J. Lozier could not be reached Monday.
The death toll from carfentanil, considered 100 times more powerful than fentanyl and 10,000 times stronger than morphine, could rise. Gabauer said his office hasn't determined what caused at least 14 overdose deaths in Beaver County since mid-December because toxicology results are pending.
The drug began raising alarms across the country last year.
In August, the Cuyahoga County Medical Examiner's office in Cleveland issued a public health warning about the drug after its use was detected in local communities and linked to overdose deaths elsewhere in Ohio. Of particular concern for users, the office said, the reversal drug naloxone could be ineffective or require several doses to counteract carfentanil's effects. For everyone else, including public safety workers, the office warned of accidental exposure — the drug can be absorbed through the skin or inhaled.
A month later, the federal Drug Enforcement Administration issued a nationwide warning about the drug.
Gabauer said he alerted staff members last week to start wearing masks and gloves when dealing with suspected overdoses in Beaver County, where overdose deaths have skyrocketed. Gabauer said Beaver County had 37 confirmed overdose deaths in 2015 but 93 confirmed cases in 2016 as of mid-December, along with the 14 pending cases.
A spokesman for Westmoreland County Coroner Ken Bacha said carfentanil has yet to show up in any fatal overdoses there. Yet District Attorney John Peck said local police chiefs already have alerted their officers to the potential danger, adding, "They've discussed halting field testing and turning that over to the labs."
The drug can be mixed with heroin to stretch supplies of that drug or to make the heroin stronger, or it can be used as a heroin substitute, Capretto said.
"At this potency, the margin for error is just so small. One or two more grains could be the difference between life and death," Capretto said of the dangers of cutting heroin with the synthetic drug.
Copyright 2017 The Pittsburgh Tribune-Review