Mass. paramedics on alert for Carfentanil
Users who inject it are in danger of overdose, but so are paramedics who inhale it or get it on their skin
---
By K.C. Meyers
Cape Cod Times
CAPE COD, Mass. — News that the deadly opioid carfentanil has arrived in Massachusetts does not surprise police or paramedics on Cape Cod as they brace for the potent drug to cross the canal.
Police in Brockton and Quincy last week recovered drugs that, when tested at the state crime lab, came back as the dreaded carfentanil, a large-mammal tranquilizer that is 100 times more potent than fentanyl (itself 50 times more potent than heroin), according to the U.S. Drug Enforcement Administration. It is the first official proof that the powerful opioid is here.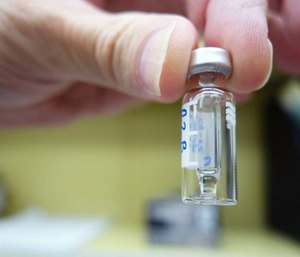 Carfentanil is lethal in doses the size of a few grains of sand, according to the federal drug agency. Users who inject it are in danger of overdose, but so are police, paramedics and anyone else who inhales it or gets it on their skin.
Reports of the drug have surfaced since last year in other parts of the country, according to the DEA. As it crept into New Hampshire and Rhode Island, it was only a matter of time before it hit Massachusetts, said state Rep. Timothy Whelan, R-Brewster.
Whelan filed a bill last last month to classify carfentanil as a class A controlled substance subject to the trafficking statute, which carries a punishment of up to 20 years in prison.
It won't be long before carfentanil comes to Cape Cod, said Kristoph Pydynkowski, director of recovery management for Gosnold on Cape Cod.
"We have been lucky so far but I'm not sure for how long," said State Police Lt. Jack Mawn of the Cape Cod Drug Task Force.
No Cape opioid samples have come back from the state crime lab testing positive for the tranquilizer, but the lab is chronically slow; his unit is waiting on 34 drug samples from as far back as January, Mawn said.
Brockton, Rhode Island, the Greater Boston area and New Bedford are some main sources of opioids that come onto Cape Cod, Mawn said.
The alarming rise in drug potency is a response to a competitive market and high demand for the drugs, Pydynkowski said.
"You've got to compete," he said.
As an opioid epidemic marches on, people addicted to heroin become tolerant to higher and higher levels of opioids. They are constantly looking for the "ultimate experience," Pydynkowski said.
It's a deadly cycle, he said.
"With heroin, you get a high tolerance quickly," Pydynkowski said. "The more heroin, the less feeling, the more tolerable life is."
At first, the drug dealers were able to replace heroin with fentanyl, which is a pharmaceutical painkiller. Dealers can now make it illicitly in laboratories, which are located mostly in Canada and Mexico, according to the DEA.
The supply of the fentanyl first comes from China, then to Canada and Mexico where it is mixed with cutting agents, or pressed into pill form to look like oxycodone, hydrocodone and alprazolam (Xanax), according to the DEA.
Since fentanyl hit the streets throughout the nation in 2013, fatal drug overdoses have soared. In Massachusetts opioid overdoses went from 13.7 deaths for every 100,000 residents in 2013 to 25.8 deaths in 2015, according to the state Department of Health.
Fentanyl can be made cheaply because only a tiny bit of the actual substance is necessary to produce a high, Whelan said.
There are so many cutting agents in fentanyl samples, police are using hand-held laser technology, sold as TruNarc, to identify seized drugs. They often have to test a single bag of fentanyl five times, Barnstable Deputy Chief Sean Balcom said.
TruNarc devices have become well worth the $25,000 price tag because they allow the police to test a drug without opening the bag and risk touching or inhaling the powder, Balcom said.
Though not as dangerous as carfentanil, fentanyl can be deadly for first responders who touch or breath it, according to the DEA.
Testing definitely is no longer done "the old-fashioned way," of opening a bag and putting it in a vial, Balcom said.
Now police wear gloves and masks to handle drugs. Fentanyl has also been found in cocaine samples, Balcom added.
Copyright 2017 Cape Cod Times