FF-paramedic, brother save life while running Miami half-marathon
Firefighter-Paramedic Francisco de Paz, who is also an emergency nurse, and his brother George stopped mid-race to help a man who collapsed
---
Susan Miller Degnan
Miami Herald
MIAMI — Francisco de Paz has saved plenty of lives as a Hialeah firefighter and paramedic and part-time emergency nurse at Palmetto General Hospital.
But never had the avid runner done so during a marathon — until Sunday.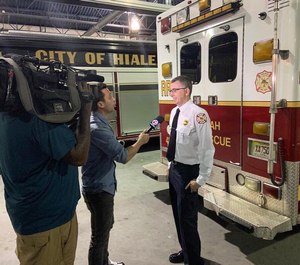 De Paz, 49, and his brother George, 48, of Orlando, finished about 20 minutes slower than they normally would have Sunday during the 13.1-mile portion of the Life Time Miami Marathon and Half Marathon. But no one is complaining, especially the 41-year-old New York man whose life was saved by the quick-thinking brothers.
About a mile shy of the half-marathon finish in the courthouse vicinity of the course, the de Paz brothers watched as an extremely fit-looking man collapsed face first onto the side of the street. The brothers immediately went to work in temperatures that hovered in the low-to-mid 70s, with gusty winds.
"His eyes were open, but he was very pale and sweaty and he was not responding,'' said Francisco, competing in his eighth Miami Half Marathon. "My brother checked his pulse and just as we noticed he stopped breathing I gave compression while he did mouth-to-mouth resuscitation."
During the second set of chest compressions, "he started breathing on his own,'' Francisco said.
Suddenly, an emergency physician runner also stopped en route, and a police officer on the scene called for one of several fire-rescue vehicles stationed throughout the course. The man was transported to a local hospital and had been released by Monday morning, race director Frankie Ruiz told the Miami Herald.
Because of privacy issues, Ruiz could not release the man's identity.
The brothers continued their race, but shortly after starting again, they encountered another man struggling to finish. So Francisco said they slowed down to escort him to the finish line and immediately led him to the main medical tent, manned by doctors and nurses and staff from Baptist Health.
George finished in 2 hours 37 minutes 21 seconds — 10,573rd of 15,428 half marathon finishers.
Francisco finished in 2:37:22 — 10,574th.
"At that point we didn't care what we ran,'' Francisco, a lieutenant in his fire department, said. "Just happy to have helped.''
Course marshal Danny Elfenbein, who is director of consumer solutions at Baptist Health and "has been with our event since the beginning,'' Ruiz said, was working the race where the man collapsed and wrote a long post on Facebook about the incident.
"My favorite day of the year took a turn for the worst,'' Elfenbein began, "and then a legitimate miracle happened... Two 'miracle runners' were assisting a runner who had fallen... Within 90 seconds, the miracle runners quickly began performing life-saving CPR on a very healthy-looking young man who had become unresponsive.
"...He literally finished his first life and began his second life on the asphalt of Miami while running the Miami Marathon. ...Today reminded me of all that is right in society and how amazing our world can be when we take care of each other.''
Ruiz isn't forgetting the heroic siblings.
"I'm giving Francisco and his brother free entry into next year's race,'' Ruiz said. "I thanked him profusely. Being at the right place at the right time among thousands of people has to be God's plan.''
De Paz wants to use his story as an example of how important it is to take a four-hour CPR course.
"I hope it raises awareness,'' he said.
———
©2020 Miami Herald
McClatchy-Tribune News Service