Ariz. high schools stocking opioid overdose reversal drug
Tucson Unified and Amphitheater Public Schools are both stocking Narcan doses in the event of an overdose
---
Brenna Bailey
The Arizona Daily Star, Tucson
TUSCON, Ariz. — Two Tucson school districts have started stocking high school health offices with Narcan, the nasal spray that can reverse opioid overdoses, in the rare case a student or staff member overdoses on campus.
Tucson Unified, Tucson's largest district, began supplying each high school nurse's office with four Narcan doses over the last few weeks, according to Nikki Stefan, the director of health services at TUSD. Amphitheater Public Schools began supplying its nurses with the drug in June 2018, according to a district spokeswoman.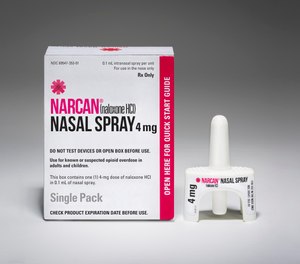 "When I heard that more people lose their lives from opioids than from car wrecks now, I said 'This (Narcan) is something we need to bring to the schools,'" TUSD's Stefan said.
A student at a TUSD high school previously overdosed on opioids while at school, which further motivated the district to stock campuses with Narcan, Stefan said. First responders were able to save the student's life with a dose of Narcan.
Narcan binds to opioid receptors in the brain, which can reverse and block the effects of an overdose, according to the National Institute on Drug Abuse.
Keeping high schools stocked with the spray benefits both students and staff, Stefan said.
While it is pretty unlikely a student or staff member would overdose from opioids — whether in the form of prescription painkillers, heroin or another substance laced with a synthetic opioid like fentanyl — at school, Stefan said, it is better to be safe than sorry.
"This is how the experts believe that we can prevent overdose deaths," Stefan said.
Both TUSD and Amphitheater paid nothing out of pocket for their Narcan supply, which normally costs $100 per two-dose package. The districts obtained the drug through a free program from the distributor of Narcan, Adapt Pharma. The Arizona Department of Health Services also provided TUSD with the drug, Stefan said.
School nurses and health aides can administer Narcan to a student without parental consent because of Arizona's Good Samaritan laws, Stefan said.
The laws allow anyone in Arizona to carry and administer Narcan, if it is medically necessary — just like a nurse or aide is legally allowed, without consent, to administer an Epipen to a child having an allergic reaction, Stefan said.
Students, too, could technically carry and administer Narcan under the Good Samaritan law. But because of TUSD policy, they cannot carry medications other than asthma inhalers and Epipens with them on school grounds.
"If a student had Narcan prescribed to them, they would have to come into the health office," Stefan said. In the case of Narcan, state law and district policy "kind of collide," she added.
STILL ON THE FENCE
Cienega High School in the Vail School District has trained its health staff to administer one of the two injectable forms of Narcan, but it hasn't supplied the nurse's office with the drug, yet, according to spokeswoman Darcy Mentone.
"The reason Cienega is considering it is the same reason everyone else is considering it," Mentone said. "We're getting more and more information on these international drug trends and although we haven't had an overdose case at the school or anything, we do want to make sure we're doing everything we can to keep our kids safe."
Vail's school resource officers from the Pima County Sheriff's Department already carry Narcan, Mentone said, so there isn't a huge rush to get health staff trained at the remainder of the high schools.
"We don't feel like it's an urgent need to get it to our schools ... but it is another tool we want to give our staff," she said.
The remainder of school districts in Tucson — Sahuarita, Sunnyside, Marana, Flowing Wells, Tanque Verde and Catalina Foothills — rely on emergency responders to administer Narcan, if necessary, according to district officials.
Some districts, including Flowing Wells and Tanque Verde, are considering supplying high school nurses with the drug.
Flowing Wells is working with Tucson Medical Center to develop a curriculum that would train staff about opioid use and using Narcan, according to district Superintendent David Baker. The program could be ready to roll out on high school campuses as soon as next fall, Baker said.
"Once the curriculum and training are available, we are planning on addressing our policy to allow it to be placed in our high school health office," Baker wrote in an email.
———
©2019 The Arizona Daily Star (Tucson, Ariz.)
McClatchy-Tribune News Service