National EMS memorial service closes out the 2016 weekend of honor
32 EMS professionals will be honored at the ceremony
---
ARLINGTON, Va. — National EMS Week will wrap up Saturday evening as families, friends and colleagues honor 32 EMS and air medical professionals who lost their lives in the line of duty in service to others will be in attendance.
Honor guards along with bagpipe and drum corps travel from around the United States to volunteer their time and services in honor of the fallen. This year's keynote speaker will be James P. Booth, FDNY EMS Chief. There will also be a team from HOPE Animal-assisted Crisis Response at the service to provide comfort and support to the families, colleagues and volunteers.
According to Jana Williams, president of the National EMS Memorial Service, "The purpose of the service is twofold – to honor the lives of our fallen colleagues and to provide hope, along with our unwavering support, to their families. We feel it is the responsibility of the EMS community to stand by the families during this time of tremendous loss and sometimes overwhelming grief. The annual memorial service offers an opportunity for the family, friends and associates of fallen EMS providers to meet and connect with others who understand what they're going through."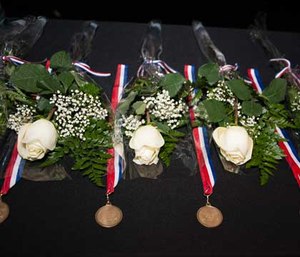 During the service each honoree's family is presented with the following a U.S. flag that has flown over the capital, a white rose and a medallion. Each represent the honoree's service to the country and their eternal memory.
A national moment of silence will be called during the service at 6:00 p.m. EDT. EMS agencies across the U.S. will participate in 30 seconds of radio silence in remembrance of the fallen.
Additionally, a tribute video, prepared specifically in honor and remembrance of the year's honorees, will be shown.
Every year of the National EMS Memorial, the "Tree of Life" will be on display. A large panel for each year features an image of an oak tree with bronze leaves that are engraved with the names of fallen honorees.
For those who cannot attend but would like to see the service, a live stream video will be available.  It will begin at approximately 5:00 p.m. EDT.
A candlelight ceremony will close out the evening.
The Weekend of Honor is organized and hosted by the following volunteer-staffed organizations: National EMS Memorial Bike Ride, National EMS Memorial Service, and the National EMS Memorial Foundation. Visit the website for more information on the specific event times and locations.