26 EMS providers killed on duty in 2018 to be remembered in 2019 Weekend of Honor
Each family member of the fallen will be presented with a folded flag, a white rose and a medallion
---
By EMS1 Staff
OXON HILL, Md. — The National EMS Memorial Service will recognize 26 EMS and air medical professionals who died in the line of duty during 2018 at a ceremony on Saturday, May 18.
National EMS Memorial Service President Jana Williams said the annual service is way to ensure the family and friends of the fallen know they are not alone.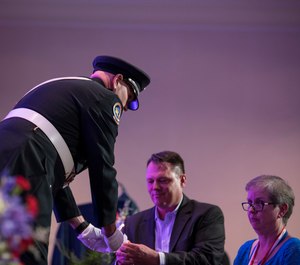 "The purpose of the service is twofold – to honor the lives of our fallen colleagues and to provide hope, along with our unwavering support, to their families," she said in a press release. "We feel it is the responsibility of the EMS community to stand by the families during this time of tremendous loss and sometimes overwhelming grief."
Each family of a fallen provider will be presented with a U.S. flag that has flown over the capitol building to honor their service, a white rose representing undying love and a medallion to signify their eternal memory.
In addition, EMS agencies across the country will participate in 30 seconds of radio silence in honor of the fallen.
For specific times and information, visit the National EMS Memorial Foundation website.