Ketamine for Excited Delirium Syndrome: Results of a 3-year case series
A review of the performance of ketamine in the agitated or excited delirium patient with an acute and potential life-threatening medical condition
---
By Robert L. Dickson, Guy R. Gleisberg, and John E. Hancock
The Montgomery County Hospital District initiated a ketamine use clinical guideline in 2010 and has been collecting quality assurance data on the drug's use for sedation, pain Management and rapid sequence intubation. 
The Montgomery County Hospital District is located within a suburban and rural community that provides non-fire based EMS and north of Houston. The district covers 1,100 square miles and responds to approximately 59,000 calls for service per year and is staffed by 190 paramedics, 900 EMTs among 15 local agencies.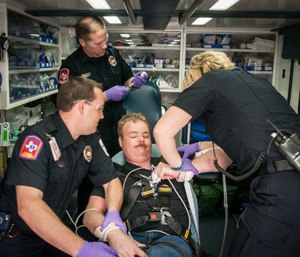 Excited delirium is an acute and potentially life threatening medical condition for a patient. EMS providers and police officers are challenging to accurately identify the syndrome and restrain the patient before the patient can harm others or cause further self-harm.
"The dilemma confronting paramedics is they can't provide medical care until they can restrain the individual and they can't restrain the individual until they provide sedation"
- West J Emerg Med. 2014;15(7):742-743.
Features evident at scene include:
Call for disturbance / psychomotor agitation / excitation
Violent / combative / belligerent / assault call
Non responding to authorities / verbal commands
Psychosis / delusional / paranoid / fearful
Yelling / shouting / guttural sounds
Disrobing / inappropriate clothing
Violence toward / destruction of inanimate objects
Walking / running in traffic
Subject obese
- American College of Physicians Excited Delirium Task Force.
Background on ketamine
Ketamine's mechanism of action is as an N-Methyl-D-Aspartate NMDA receptor antagonist with both a dissociative and anesthetic properties [1].  Ketamine is a versatile medication and can be given intravenous, intraosseous, intramuscular, intranasal, or per oral with recommended intravenous doses of 1-2 mg/kg and 3-4 mg/kg IM for dissociation [2].
Potential side effects of ketamine (estimates are for children, no information available yet for adults):
Airway misalignment requiring repositioning of head (occasional)
Transient laryngospasm (0.3%)
Transient apnea or respiratory depression (0.8%)
Hypersalivation (rare)
Emesis usually well into recovery (8.4%)
Recovery agitation (mild 6.3%, clinically 1.4%)
Muscular hypertonicity and random, purposeless moves (common)
Clonus, hiccupping, or short non-allergic rash face / neck
Ann Emerg Med. 2011;57:449-61.
Ketamine is a yes or no medication regarding dissociation and once achieved there is no benefit in additional medication to enhance effect [2]. Ketamine given at dissociative doses has no respiratory depression or loss of airway reflexes [3-5]. There is literature to suggest no increase in these complications even with doses of 7-15mg/kg intramuscular [6].
Previous studies suggest intranasal ketamine 0.5-.75mg/kg is effective for pain control, but scant data on this route of administration in the excited delirium patient [7].
In a pediatric study oral ketamine at a dose of 6mg/kg provided successful dissociation without an increase in adverse effects [6]. A longer onset of action with the oral and intranasal routes may limit their use in the agitated excited delirium patient [7].
From previous reviews we know that the patient population who receives this therapy is quite ill, with diagnosis ranging from drug and alcohol intoxication to seizures and intracerebral hemorrhage [11]. In a series of prehospital patients with excited delirium treated with ketamine 61 percent were ultimately hospitalized and 15percent admitted to intensive care [11].
"A trancelike cataleptic state characterized by profound analgesia and amnesia, with retention of protected airway reflexes, spontaneous respirations, and cardiopulmonary stability" i.e., Dissociative Sedation
- American College of Emergency Physicians
Case review methods
We conducted a retrospective quality review of consecutive patients receiving prehospital ketamine administration by paramedics from our ePCR database from October 2012 through March 2016.  
Ketamine administration indications were for rapid control of the violent or agitated patient requiring medical intervention and transport. 
Conversely, Ketamine contraindications included the control of patient parameters by other less invasive means. Those cases where combativeness, aggressive/violent behavior was identified within the ePCR were abstracted.  
Data collected included NEMSIS response to medication, demographic information, dosages, route of administration, need for additional dosages and unexpected adverse events for a sub population of ketamine administration specifically for excited delirium. Descriptive statistics were utilized to describe and calculate standard study data characteristics.
Ketamine administration results
During the study period we had a total of 902 ketamine interventions, 338 for aggressive violent behavior/excited delirium, 119 for pain management, 250 for rapid sequence intubation, 186 for post intubation management and 9 other indications.  
Of the 338 ketamine administrations for violent behavior/excited delirium 67 percent were male, mean age of 36 years (range 11-81) with a mean weight of 81kg.  
Eighty-three percent of administrations were intramuscular, 17 percent intravenous with a mean dose of 291mg (3.6mg/kg).  
We recorded improvements in 317/338 (94 percent) of patients after ketamine, 17/338 (5 percent) were unchanged and 4/338 (1 percent) had a worsening of their clinical condition. Additional doses of medication were required in 77/338 (23 percent) of cases.
Ketamine effectiveness for excited delirium syndrome
In this patient population, our data indicates the use of prehospital ketamine by paramedics was effective in improving agitation for the majority of patients. 
In this large series of EMS patients with violent behavior/excited delirium ketamine was quite effective in improving their symptoms and appears to be a safe and effective therapy in this very difficult patient population.  
There have been several previous reported case series of ketamine use for prehospital agitation/excited delirium which all found similar efficacy to ours, however to our knowledge this is the largest data set for ketamine use in EMS for this indication [8-11].
While it is clear that there seem to be few unexpected adverse events with EMS administration of ketamine for sedation of violent behavioral/excited delirium patients, further prospective studies with patient hospital diagnosis and outcomes are needed.
Take home points
Keep in mind these important points about ketamine administration to patients with excited delirium syndrome:
Excited delirium is a medical emergency in the prehospital setting
Ketamine appears to be a safe and effective way to chemically restrain violent behavioral/excited delirium patients
The preferred method is intramuscular injection with a dose of 4mg/kg
Full monitoring including end tidal CO2 is recommended after control is established with vigilance for laryngospasm, airway compromise or hypoventilation
About the authors:
Dr. Dickson is an assistant professor of emergency medicine at Baylor College of Medicine in Houston Texas. He serves as EMS medical director of Montgomery County Hospital District EMS and is board certified in emergency medicine. His academic interests include stroke, acute care coordination and resuscitation.
Guy R. Gleisberg, MBA, BSEE / Bio-Medical , NREMT-B, works for Montgomery County Hospital District EMS and the Baylor College of Medicine, Section of Emergency Medicine. 
References:
Craven R. Ketamine. Anesthesia. 2007;62:S48-S53.
Green SM, Roback MG, Kennedy RM, Baruch K. Clinical Practice Guideline for Emergency Department Ketamine Dissociative Sedation: 2011 Update. Annals of Emergency Medicine. 2011;57(5):449-461.
Green SM, Roback MG, Krauss B, et al. Predictors of airway and respiratory adverse events with ketamine sedation in the emergency department: an individual-patient data meta-analysis of 8,282 children. Ann Emerg Med. 2009;54:158-168.
Green SM, Roback MG, Krauss B, et al. Predictors of emesis and recovery agitation with emergency department ketamine sedation: an individual-patient data meta-analysis of 8,282 children. Ann Emerg Med. 2009;54:171-180.
Green SM, Johnson NE. Ketamine sedation for pediatric procedures: part 2, review and implications. Ann Emerg Med. 1990;19:1033-1046.
Gutstein, HB. Oral ketamine preanesthetic medication in children. Anesthesiology 1992;76(1):28-33
Andolfatto,G. Intranasal ketamine for analgesia in the emergency department: a prospective observational series. Acad Emerg Med. 2013 Oct;20(10):1050-4
Scheppke KA, Prehospital use of i.m. ketamine for sedation of violent and agitated patients. West J Emerg Med. 2014 Nov;15(7):736-41
Keseg, D. The Use of Prehospital Ketamine for Control of Agitation in a Metropolitan Firefighter-based EMS System. Prehosp Emerg Care. 2015 January-March;19(1):110-115.
Ho, JD. Successful management of excited delirium syndrome with prehospital ketamine: two case examples. Prehosp Emerg Care. 2013 Apr-Jun;17(2):274-9
Burnett, AM. The emergency department experience with prehospital ketamine: a case series of 13 patients. Prehosp Emerg Care. 2012 Oct-Dec;16(4):553-9.