Paramedics recount their actions at synagogue massacre scene
"I'm thinking to myself, 'What are we doing to do if all of this is real?'" tactical paramedic Justin Sypolt said about the Tree of Life Congregation shooting
---
By Megan Guza
The Tribune-Review
PITTSBURGH — Justin Sypolt was trying to plan a Halloween party.
A paramedic trained as part of Pittsburgh's Tactical EMS team, he got up early Saturday to get ready to host the party at his Westwood home.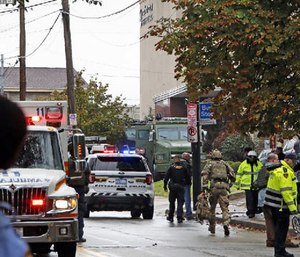 "I had actually just started brewing a cup of coffee when I got a text message from a friend of mine that said there's an active shooter," he said.
He went for his radio, and soon the coffee was forgotten.
"Within seconds of listening to what was happening on the radio, I knew this was it," he said. "I took my clothes off like I was on fire and jumped into my SWAT gear."
He turned to his wife and told her he was sorry. She told him to do what he had to do.
Sypolt is part of a team of armed paramedics who follow SWAT and police officers into active scenes to get to injured victims faster.
On Saturday, he drove straight to the Tree of Life Congregation in Squirrel Hill where a gunman was firing on officers from the front door of the synagogue. Eleven people already lay dead inside, and two more were injured — saved, most likely, by the speed and efficiency of paramedics like Sypolt.
On Murray Avenue, he linked up with fellow Tactical EMS member Jonathan Atkinson, who'd brought the team's dedicated ambulance to the scene. With the scene unsecure and still very active, Sypolt and four others went in.
He said SWAT operators were just a few steps into the building before they started screaming for paramedics.
"As soon as you walked in the door, to the left — we just saw bodies laying everywhere," he said.
One, a 70-year-old man, was still alive. Sypolt and another medic carried the man outside, he said. Realizing there was no treatment they could provide to him on scene, they carried him to the ambulance.
"We put him on the stretcher, and Eric and I turned back around and we ran back into the building," he said.
They found an injured woman, a 61-year-old who'd been shot in the arm. They carried her to safety as well.
They went back in for the third time.
Upstairs, they secured a second-floor landing that turned out to be right below where the suspect, Robert Bowers, was. He opened fire on SWAT officers searching the third floor for more victims, striking SWAT operator Tim Matson in the stairs to the third floor.
Sypolt said they moved a table to create space to bring Matson down the stairs.
"I was just yelling up the stairs, 'Bring him down here, bring him down here,'" he said.
He said they recognized the severity of Matson's injuries and quickly took him to the first floorb where they were met with a stretcher.
Then Sypolt ran back in for the fourth time.
When the gunfire erupted, Atkinson, who had been outside, ran into the synagogue — toward the gunfire and toward the danger. Once inside, more gunfire broke out.
A second SWAT officer was struck. Atkinson helped remove him from the building and rode with him to the hospital.
Sypolt said much of his team was outside the building by then, leaving just himself and another physician as the only medics inside.
Upstairs, SWAT officers were investigating a package they believed might be an explosive. Outside, more officers were doing the same with another package.
Sypolt's team couldn't get to him.
"I'm thinking to myself, 'What are we doing to do if all of this is real?'" he said.
A jarring moment came as he searched for a fire escape.
"As I'm looking for a way to get from where we are to the fire escape is when I realize that the room adjacent … was where they have their daycare. And I'm looking at this wall that's got crayon drawings that all these little kids made," he said.
"And I'm just thinking, 'What in the world is happening?'"
If the kids had been there, Sypolt said, he's not sure he could have done it.
"That might have been my last call," he said.
Both he and Atkinson said they relied on their training to get through it.
"I just defaulted to my level of training and did what I knew how to do," Sypolt said.
What they're trained to do is more than just treat the injured.
"Our mission as medics is to save lives," he said. "And if that means preventing death by whatever means necessary — whether it's we step in front of it or we're in between life and death — that's just what we do."
Copyright 2018 The Tribune-Review
McClatchy-Tribune News Service