MCI attacks in Toronto, Parkland reminders to follow the three Ps
Sinister mass casualty violent attacks require additional preplanning and post-MCI recovery efforts from EMS
---
What happened: Officials have confirmed 10 people are dead and 15 others are injured after a van struck a crowd of pedestrians in Toronto.
Why it's significant: Mass casualty incidents are, by definition, major medical events that require a significant change in normal operating procedures. These become even more stressful when the underlying cause is more sinister, such as the apparently intentional running down of pedestrians in Toronto and the recent mass shootings in Parkland, Fla., and Nashville, Tenn.
Top takeaways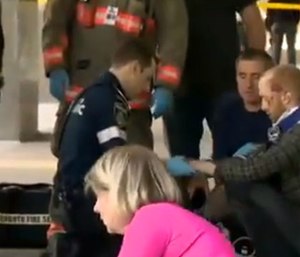 Violent attacks add an extra layer of concern and stress for responding public safety providers. In such situations, preplanning, preparation and practice are especially useful in responding to these horrific events.
1. Follow the three Ps: Preplan, Prepare and Practice
While no two incidents are exactly alike, there are similarities in operations that can be planned in advance, such as training front line personnel in incident command systems, or implementing a communications plan to alert receiving facilities of incoming victims. Disaster plans cannot be complex, despite the numerous agencies that are typically involved in local disaster mitigation. 
2. Prepare to act as the incident commander
MCIs will strike at any time, in any place. It is highly likely that during the first few minutes of a major event, an EMS provider will need to act as an incident commander or medical group supervisor until other more senior leadership arrives to assume command. Preparing for this role is essential.
Many EMS systems practice Triage Tuesdays, where EMS crews practice START triage with every patient. Other systems deploy MCI tactics on lower level events, such as a traffic crash with numerous walking wounded patients. Annual walk-through exercises can help air out a MCI plan, identifying weaknesses and allowing agencies to be better prepared for the real deal.
I believe that the key to a successful MCI operation is getting it right in the first few minutes. Despite all of the planning, preparation and practice, it can still be too easy to rush into a situation, grab the first critical patient and leave for the emergency department.
It is critical that the first unit on scene has to keep a cool, collective head and delegate ICS roles. For EMS providers charged with the treatment and transportation of victims to area hospitals, getting those initial ICS positions staffed is critical. As the saying goes, sometimes it's best to go slow in order to go fast. 
3. Be ready to adapt to logistical challenges
The Toronto incident spanned over a mile, presenting a major logistical challenge. Obviously, a single triage/treatment location is not helpful. Smaller operations that are in constant communication with dispatch and each other can reduce the confusion that is a likely consequence of not having the ability to see each other at a single scene.
Radio traffic must be kept to minimum, with only essential positions operating on operational or tactical channels. 
Suburban EMS systems that manage daily trauma cases well may be overwhelmed when there are numerous critically injured victims. Helicopter services, which may not typically be used in such systems, may be called in to off load patients to trauma centers that are much further away by ground.
What's next: Major incidents are stressful, both during and after they occur. After the cameras are turned off and the world turns its attention to the next catastrophe, left behind are the victims, family and first responders who have to deal with the physical and emotional aftermath.
Especially for EMS providers, who may have the closest contact with victims, it's essential to pay heed to the signs of over stress in themselves, practicing self-care, and also to look out for each other. While the stigma of seeking emotional help is decreasing, many of us are still reluctant to admit to ourselves and others that we are human too. 
Learn more
Learn more about preparing for the next MCI and healing first responders with these resources from EMS1.