First responders share horror of Texas church shooting scene
Husband and wife EMS providers Mike and Jamie Shaw said they are haunted by images of the blood-soaked scene
---
By EMS1 Staff
SUTHERLAND SPRINGS, Texas — A husband and wife paramedic team who responded to the tragic church shooting said they are haunted by what they saw.
NBC News reported that paramedic Mike Shaw and EMT Jamie Shaw were the first to arrive on the scene after Devin Patrick Kelley killed 26 people during a worship service at First Baptist Church.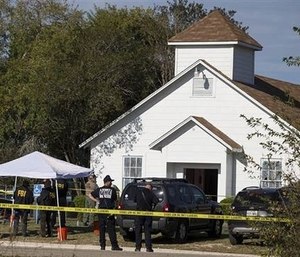 "I'm trying to get the horror out of my mind," paramedic Shaw said. "But you can't unsee what you already saw."
The EMS couple said they weren't prepared for the carnage they witnessed. They said they heard about the "multiple casualties" on the radio, but paramedic Shaw said it didn't sink in "until we walked in the door."
"For something like that, there's no real training for it," he said. "As far as the people, I think I knew a few of them."
"Put your head on, go in and do what you go to do, what you were trained to do as a medic," EMT Shaw said. "It's hard, but I mean your training kicks in and you do what you have to do."
EMS Chief Paul Brunner was off-duty that day, but raced to the church when he found out about the shooting. He said he began going through a checklist in his head of what needed to be done, but it went out the window when he arrived.
"It's chaos but you just have to fly through that mentality and just zone-in on all your aspects," Chief Brunner said. "You can't just get wrapped-up in the chaos."
Chief Brunner added that the "sheer volume" of the tragedy did not hit him until a couple of days later.
"There are certain evil things in the world, I guess," Chief Brunner said. "That's why we're here, because we do it. And the main thing is understand, no matter what, we are going to be here."