8 people killed in NC nursing home shooting
---
By Mike Baker
The Associated Press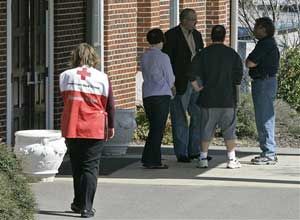 AP Photo/Gerry Broome
A Red Cross worker is seen at a chapel in Carthage, N.C., Sunday, where persons could gather to grieve after a gunman opened fire at a nursing home killing eight people and wounding several others.
MOORE, N.C. — A single shot from a decorated police officer stopped a gunman's rampage through a North Carolina nursing home, ending a slaughter that left eight people dead and three more wounded, police said Monday.
Carthage Police Chief Chris McKenzie said Monday the gunman may have targeted the home because his estranged wife, whom he did not name, works there. He said Monday he believed the couple were recently separated, but acknowledged he didn't yet know many more details about her.
Authorities said Robert Stewart, 45, went on a terrifying rampage in the Pinelake Health and Rehab center on Sunday morning, killing seven residents and a nurse and wounding three other people.
He was stopped by a single shot to the chest fired by Justin Garner, a decorated police officer responding to a 911 call. Stewart wounded Garner three times in the leg as they traded gunfire in a hallway, McKenzie said.
"Whether he realizes it now, he will hopefully realize someday how many lives he has saved," McKenzie said, adding: "A lot more lives would have been lost, I honestly feel, had he not done what he did. For certain."
Stewart's estranged wife is a certified nurse assistant at the nursing home named Wanda Luck, said Mark Barnett, a neighbor. Public records indicate she shared an address with Stewart in Carthage, and Barnett said Monday she was born and raised in the community, a small town about 60 miles southwest of Raleigh in North Carolina's Sandhills region.
"This is a horrible tragedy," Barnett said. "This is something that's just unthinkable. I can't even imagine what she's going through."
An ex-wife of Stewart's, Sue Griffin, told reporters Sunday she had not had contact with him since they divorced in 2001, but said he had been recently reaching out to family members, telling them he had cancer and was preparing for a long trip and to "go away." Griffin added she didn't know how her ex-husband was connected to the nursing home or why he would shoot people there.
"He did have some violent tendencies from time to time," Griffin said. "I wouldn't put it past him. I hate to say it, but it is true."
Court records said Stewart was transferred from the custody of Moore County to the state Department of Correction, because he has a gunshot wound. He is not scheduled to appear in court until next week on eight counts of first-degree murder and a charge of felony assault of a law enforcement officer.
Stewart was not a patient or an employee at the nursing home and wasn't believed to be related to any of the victims, authorities said.
Krueger said the victims were Pinelake residents Tessie Garner, 88; Lillian Dunn, 89; Jessie Musser, 88; Bessie Hendrick, 78; John Goldston, 78; Margaret Johnson, 89; Louise Decker, 98; and nurse Jerry Avent, whose age wasn't immediately available.
Musser had lived at Pinelake for only six weeks, said his son-in-law, Jim Foster, 47, of Aberdeen. He said the man had Alzheimer's and Parkinson's diseases and was blind, deaf and confined to a wheelchair. Foster said the family was now trying to figure out how to tell Musser's wife, who has dementia and lives at the same facility, that her husband is dead.
"She was upset that they didn't bring him to see her yesterday," Foster said. "I don't know how we're going to break it to her. You got a clue?"
The facility was closed after the attack as authorities worked to gather evidence inside and out. Authorities declined to say if authorities had moved the surviving residents from the 110-bed facility, including patients with Alzheimer's disease, saying only, "They're safe, which is the primary thing."
Among the items investigators found was a camouflaged-colored rifle or shotgun, which was leaning against the side of a Jeep Cherokee in the parking lot.
Sunday's rampage happened just weeks after a man killed 10 people, including his mother and several other relatives, in the worst mass shooting in Alabama's history on March 10. On March 11, a teen killed 12 people at his former high school in Germany.
___
Associated Press writers Mitch Weiss in Charlotte, N.C., Erin Gartner in Raleigh, N.C., and the AP's News Research Center in New York contributed to this report.