LODD: Paramedic, patient die in Tenn. ambulance crash
Officials said West Tennessee Healthcare paramedic Zachary Pruitt and patient Nyema Jackson were ejected from the ambulance after it struck a rock wall
Duty Death: Zachary Pruitt - [Nashville, Tennessee]
End of Service: 11/30/2018
---
By EMS1 Staff
NASHVILLE, Tenn. — A paramedic and a patient died Friday in an ambulance crash.
WATE reported that West Tennessee Healthcare paramedic Zachary Pruitt, 36, was transporting patient Nyema Jackson, 36, when the ambulance struck a rock wall, according to officials.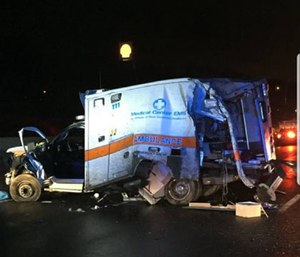 Pruitt and Jackson were ejected from the ambulance and received CPR from responding officers before they were transported to the hospital, where they were pronounced dead.
The EMS provider driving the ambulance said she hydroplaned in the rain and lost control in a curve, causing the ambulance to leave the roadway and strike the wall.
She was transported to the hospital with non-life-threatening injuries.
LIVE: The body of 36-year-old Paramedic Zachary Pruitt, of Humboldt, to be escorted from the Nashville Medical Examiner's Office, down I-40, to the Davidson County line. Pruitt died in an ambulance crash in Nashville last night.

LIVE: The body of 36-year-old Paramedic Zachary Pruitt, of Humboldt, is escorted from the Nashville Medical Examiner's Office, down I-40, to the Davidson County line. Pruitt died in an ambulance crash in Nashville last night: https://fox17.com/news/local/paramedic-patient-killed-in-i-40-ambulance-crash-identified

Posted by WZTV FOX 17 News, Nashville on Saturday, December 1, 2018