'EMS Counts Act' reintroduced in Congress
The bill aims to improve the collection of data regarding first responders, especially firefighters and EMS personnel
---
By Laura French
WASHINGTON — Two Congress members have reintroduced the "EMS Counts Act," which aims to improve how the Department of Labor collects data on EMS providers and firefighters. 
The bill would require the Secretary of Labor to revise the Standard Occupational Classification System by dividing the occupation category of "Firefighter" into sub-categories identifying different levels of EMS crosstraining, according to a press release from the office of Rep. Fred Keller (R-Pa.), one of the bill's sponsors. This change would ensure a more accurate count of trained EMS professionals throughout the country, Keller said.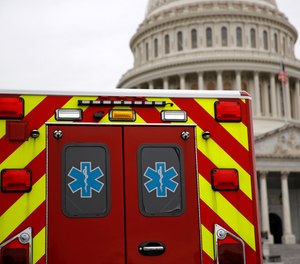 The bipartisan bill is also sponsored by Rep. Susan Wild (D-Pa.) and is supported by the National Association of Emergency Medical Technicians (NAEMT). 
"Current occupational data collection methods often overlook the fact that emergency personnel, especially in rural communities, are tasked with performing multiple duties to keep the public safe. As a result, these departments are missing out on much needed support because of incomplete data," Keller said in a statement. "I am proud to join Congresswoman Wild in reintroducing the EMS Counts Act to correct the chronic undercounting of first responders and ensure these brave men and women have the resources they need to respond effectively to emergencies and protect their communities."
The EMS Counts Act was originally introduced in the 116th Congress in October 2020, EMS1 previously reported, but it never left the House Committee on Education and Labor. 
"Throughout this pandemic, we have seen this diverse group of health care practitioners step up to serve our communities in inspiring and selfless ways, and making sure we have an accurate count of these first responders will help us meet the health and safety needs of our communities through this crisis and in future emergencies," Wild said in a statement. "I'm proud to join my colleague from Pennsylvania, Rep. Fred Keller, in re-introducing this common-sense, bipartisan legislation that will help ensure our community is prepared for emergencies."
NAEMT President Bruce Evans also released a statement, saying, "NAEMT applauds Rep. Susan Wild (D-PA) and Rep. Fred Keller (R-PA) for their leadership in re-introducing the EMS Counts Act ... This legislation will improve the ability of our states and communities to effectively utilize their EMS workforce to care for the sick and injured and respond to major disasters and public health crises as well as compete for Federal funding. We look forward to working with Rep. Wild and Rep. Keller on this foundational bill to better capture the number of Paramedics and EMTs in our country." 
Evans also noted that the bill is critical in providing accurate numbers to the government for coordinating ongoing COVID-19 response, including vaccine distribution for first responders. 
"We call on Congress to pass this bill in short order," Evans stated. 
Read the full bill text below: