Conn. first responder PTSD bill needs governor signature, excludes EMS
While the measure drew almost universal praise, some faulted the bill for failing to including emergency medical technicians
---
Daniela Altimari
The Hartford Courant
HARTFORD, Conn. — Police, firefighters and parole officers who experience post-traumatic stress disorder after witnessing a tragedy on the job will be eligible for workers compensation benefits under a bill unanimously approved by the House of Representatives on Friday.
The measure, which the Senate endorsed on Thursday, now moves to Gov. Ned Lamont for consideration.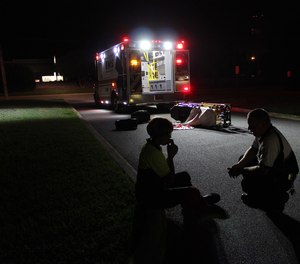 Under the bill, police and firefighters who witness the death--or an injury that leads to death--of another person, or a severe injury that results in the loss of a limb or other body part would qualify for the benefits.
"This bill takes a step forward and properly acknowledges that police, firefighters and parole officers who suffer real, viable post-traumatic stress by witnessing death and mayhem while doing their jobs receive coverage for wage loss and medical treatment," said Rep. Christine Conley, D-Groton.
First responders have been pressing lawmakers for such coverage for nearly a decade, after a Stamford police officer was denied compensation for post-traumatic stress disorder following a gruesome chimpanzee attack that resulted in a woman losing her face. The effort accelerated following the Sandy Hook School shootings in 2012.
Cities and towns initially resisted the idea, citing the cost. But this year, lawmakers hammered out an agreement that won support from
"I'm very happy that this year we got to this point,'' said House Republican leader Themis Klarides.
The bill expands the definition of 'personal injury' in state workers' compensation laws to include coverage for psychological injuries without an accompanying physical injury, beginning on July 1. The new provisions are expected to cover an estimated 36,000 state and local employees, including 26,800 firefighters, 8,180 police officers, 958 state police officers and 140 parole officers.
Lawmakers in both chambers of the General Assembly, including several who work as police officers, shared harrowing personal stories about their own experiences with post-traumatic stress disorder.
But while the measure drew almost universal praise, some faulted the bill for failing to including emergency medical technicians. Instead, the bill requires the legislature to commission a study to examine whether EMTs should be added.
Rep. Jason Perillo, a Shelton Republican who served as chief of a local ambulance company, recalled on horrific car crash involving a mother and her kids. A firefighter tended to the mother, who wound up losing her left arm as a result of the accident, while an EMT named Dave provided medical aid to her son in the back. The boy later died.
"I want to know what study is going to explain to us why the veteran firefighter in the front...gains these benefits...but my guy Dave in the backseat of that car with the 4-year-old who died, did not,'' Perillo said. "Why [do] we have to study it? I need an explanation, Dave needs an explanation and EMTs and paramedics need an explanation."
Perillo and other critics voted in favor of the bill but said lawmakers need to revisit the issue next year to add EMTs and firefighters.
———
©2019 The Hartford Courant (Hartford, Conn.)