Upheaval at Texas EMS agency may affect federal lawsuit
With Pharr EMS officials planning to lay off 40 employees next month, Med Care EMS' legal allegations against the city are questionable
---
Dina Arévalo
The Monitor
McALLEN, Texas — Recent upheaval within the city of Pharr's ambulance service, known as Pharr EMS, may have implications in a federal lawsuit currently pending against the city and its commission.
In November 2021, private ambulance provider Med Care EMS sued the city just months after the Pharr City Commission had approved the purchase of the bankruptcy assets of Hidalgo County EMS, which was once the largest ambulance provider in the Rio Grande Valley.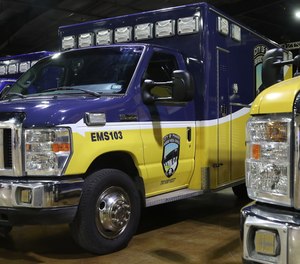 At the time, Pharr touted the purchase as an opportunity for the city to own and operate its own ambulance service. The city also agreed to continue servicing the communities that had relied on Hidalgo County EMS – primarily rural areas of the county.
However, in its lawsuit, Med Care claimed the city's purchase was not out of a concern for the public welfare, but rather, a nefarious, multifaceted scheme intended to benefit certain commissioners while stifling the ability of other ambulance providers to operate within Pharr.
But now those allegations find themselves on shaky footing after the rebranded Pharr EMS began falling apart in recent weeks.
On Friday, Pharr EMS Chief Daniel Ramirez notified 40 of his employees that they would be laid off effective Oct. 5.
A letter sent to those employees cited the city's inability to maintain Pharr EMS as "a self-sustainable system."
News of the staff layoffs came just weeks after Pharr EMS sent a letter to Hidalgo County officials notifying them that it would be terminating its contracts to provide ambulance service in rural areas effective Sept. 30.
That cessation of service will impact much of western Hidalgo County, as well as the Delta region in the east.
Pharr's rapid-fire decision to begin constricting its ambulance service came after it had hemorrhaged millions trying to keep the nascent EMS afloat.
As first reported by the Progress Times, Pharr EMS lost nearly $7 million in its first year of operation.
The pace at which Pharr EMS is shrinking has the federal judge who is presiding over Med Care's lawsuit wondering if there will be a Pharr EMS left to sue.
"What does this mean? Are they totally out of the business or not?" U.S. District Judge Ricardo H. Hinojosa asked the attorneys for both sides during a status conference Thursday afternoon.
Just moments before, Robert Lee Drinkard, the attorney representing Pharr, said he's been in talks with officials to try to determine just that.
"My understanding is the city does not want to get out of the ambulance business... (but) they're losing money," Drinkard said.
Nonetheless, a question mark continues to hang over the future of Pharr EMS, and as such, Hinojosa postponed making any decisions on several pending motions until the two sides have more information.
"Come back in 30 days," Hinojosa said.
The judge urged the attorneys to determine "whether or not they're (Pharr EMS) out of business ... and if the plaintiffs still want to continue with this cause of action."
As for the lawsuit itself, Med Care claims the city approved the purchase of Hidalgo County EMS's assets in order to enrich certain Pharr city commissioners — namely Mayor Ambrosio "Amos" Hernandez and Commissioner Ramiro Caballero.
Med Care alleges that the mayor, as a "significant shareholder" of DHR Health, stands to gain from having a city-run ambulance service that transports patients to DHR-owned facilities.
"(Pharr EMS's) almost exclusive emergency medical transportation services to the Hospital financially benefit the Defendant Mayor by having all ambulance services take patients to DHR or a DHR owned facility," reads Med Care's third amended complaint, in part.
Med Care also claims the city purchased Hidalgo County EMS's assets in order to benefit the company's former owner, Kenneth Ponce, who pleaded guilty to bankruptcy fraud for concealing assets in the yearslong bankruptcy proceedings.
Med Care claims Pharr undertook the purchase, in part, because Commissioner Caballero's wife is related to Ponce.
"(T)he purchase price was an over-valued bid to purchase HCEMS for an undisclosed amount of taxpayer money which bid was made for the purpose of benefiting family members of the Defendants, the Mayor and the City Commissioners," the complaint reads.
And finally, Med Care claims that Pharr's actions created a monopoly that stifled competition from other ambulance providers by requiring those other providers to obtain a license to operate within the city or face monetary fines.
In court on Thursday, Med Care's attorney, Francisco R. Canseco Sr., took the allegations one step further, stating that Pharr was instructing area hospitals to not accept ambulances from other providers.
The allegation drew skepticism from the judge.
"So, the hospitals are gonna turn them down? I don't think so," Hinojosa said.
"When they drop you off, they (the hospital) say they're not allowed to accept," Canseco insisted.
Meanwhile, Pharr is hoping to have the lawsuit tossed in its entirety.
The city filed a motion to dismiss in early July. In it, Pharr makes several arguments, including assertions that Med Care is barred from suing the city or its commissioners because they are protected by sovereign or qualified immunity.
Pharr also alleges that Med Care has failed to state an actionable claim, and that the court doesn't have jurisdiction to hear the case.
Further, the city rebuts Med Care's allegations that the city commission acted fraudulently. Its response undercuts insinuations that underlie Med Care's complaint — that city officials acted with intentional malice against the company, specifically.
"As to Plaintiff's allegations of fraudulent motives, once a municipality establishes it is entitled to state action immunity, the subjective motivation of the actors involved in the decision-making process should not come into play," Pharr's motion to dismiss states, in part.
"Furthermore, any personal animus is not determinative," it further states.
___
(c)2022 The Monitor
McClatchy-Tribune News Service