Fla. firefighter-paramedic accused of recording medical call reinstated
Joshua Granada will receive back pay, with the exception of 240 hours, which was ruled the appropriate punishment under the city's collective bargaining agreement
---
By Ryan Gillespie
Orlando Sentinel
ORLANDO, Fla. — Former Orlando firefighter Joshua Granada, who was was fired after being accused in 2017 of recording City Commissioner Regina Hill, has been reinstated to the department by an arbitrator, records show.
Soon after learning Monday of Granada's reinstatement, Hill blasted the ruling for "not having all of the facts," pointing to a section that states Granada was never charged criminally in the incident. However, court records show Granada faced two felony counts relating to Hill's accusation.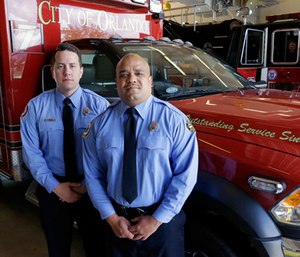 "The city did the right thing when we terminated him because he broke policy. But for the arbitrator to rule without having all of the facts, I don't think it's just," Hill said. "When you rule, you should have all of the facts."
The arbitrator, James Stokes, didn't immediately return an email seeking clarification.
Granada — who was a first responder to the Pulse nightclub mass shooting in 2016 — entered into a pre-trial diversion agreement in August 2019 relating to the charges, which called for 100 hours of community service and writing an apology letter to Hill.
Granada's attorney, Fritz Scheller, said he would be issuing a statement Monday but hadn't at the time of publication.
After announcing the news at Monday's City Council meeting, Hill said: "I feel violated again."
Under the order, Granada will receive back pay, with the exception of 240 hours, which Stokes ruled was the appropriate punishment under the city's collective bargaining agreement with firefighters.
The ruling also stated that recording a patient wasn't prohibited by city policy, citing a 2009 memo that states it would require the permission of a supervisor to do so.
"Therefore, it is unconvincing that the conduct of the Grievant was so heinous when, in reality, it could have been cured by a simple request of the supervisor on-scene, with permission granted orally," the ruling states.
Also, the order states that while the city argued Granada knew recording Hill was wrong, Granada deleted the audio after it was called into question by a superior and before he was aware of the memo.
The arbitration was being reviewed by City Hall and it was unclear when Granada would return to work and the amount of back pay he's due.
Hill said she was trying to figure out her options.
City spokeswoman Karyn Barber said, "We are disappointed that the city's discipline was not upheld."
Granada was accused of recording Hill after his crew was dispatched to a DoubleTree by Hilton hotel the afternoon of Aug. 27, 2017. He previously said he began audio recording Hill after he felt threatened by her behavior, and stopped when he found out who she was.
He was fired after the incident, with the Fire Department citing Granada violated policy and state law by recording her and later playing it at the dining table of the fire station.
———
©2019 The Orlando Sentinel (Orlando, Fla.)
McClatchy-Tribune News Service