EMT faces 39 charges for illegal weapons, drugs and cyber harassment
A New Jersey man's EMT license was suspended after a police report filed by an ex-girlfriend led to the discovery of multiple illegal weapons and narcotics at his home
---
By EMS1 Staff 
GREEN TOWNSHIP, N.J. — State officials suspended a Green Township man's EMT license after police charged him with weapons possession, drugs and cyber harassment, 
The State Department of Health's Office of EMS notified Michael V. Zaremski, 25, of his suspension via a formal letter after his ex-girlfriend told police that he threatened her life, the Advertiser-News South reported.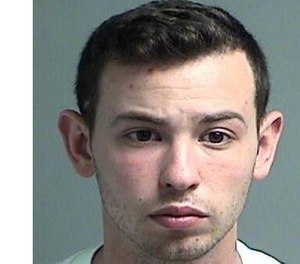 Police arrested Zaremski after his ex-girlfriend reported that he had posted images of her on a fake social media account wearing a Nazi uniform and hat. In addition, she alleged that he threatened her with a handgun in January 2019. 
Zaremski allegedly followed and shared the images of his ex-girlfriend with her Jewish employer, which led to her losing her job.
During an investigation of Zaremiski's actions on social media, police found a loaded 9mm handgun in his EMS jacket, leading to an admission from Zaremiski that he carried the gun while on duty. The handgun lacked serial numbers, prompting police to obtain search warrants for his house and vehicle, where they uncovered more illegal weapons, including six assault rifles, a loaded handgun, 18 high-capacity magazines, gun-manufacturing tools and narcotics.
"As you are aware, EMTs are placed in a position of trust by the general public," Assistance Commissioner Christopher Neuwirth said in the Zaremski's EMT certification suspension letter. "In order to be effective, EMTs must exercise good judgment, trust each other and be trusted by police officers, firefighters, doctors and other professionals. In short, EMTs must be law-abiding and trustworthy."
Zaremski faces 39 charges for weapons, drugs and cyber harassment.