Deaf N.C. FF wins lawsuit over EMT exam accommodations
Despite providing documentation for his accommodations, the N.C. Office of EMS denied Austin Freidt a paper exam and a reader
---
By Bill Carey 
FireRescue1/EMS1 
DAVIE COUNTY, N.C. — A North Carolina firefighter has reached a landmark legal settlement with the state's Office of Emergency Medical Services to receive the disability-related accommodations he needs to take the state EMT exam. 
The settlement between Austin Freidt, a volunteer firefighter with the Cornatzer-Dulin Volunteer Fire Department, and the North Carolina Office of Emergency Medical Services (OEMS) comes after Freidt filed a lawsuit after being denied the disability-related accommodations he needed to take the exam and become a full-time firefighter, the Winston-Salem Journal reported.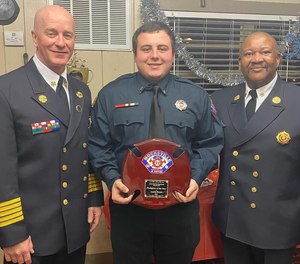 "I was happy," Friedt said about the decision. "I'm very, very excited because I can't wait to get a full-time job." 
Freidt has a reading disability and cochlear implants and processes information more quickly and accurately when he hears something read aloud and has a paper to read from. 
When he registered for the exam, he requested a paper copy of the 100 multiple-choice questions and a reader as accommodations for his reading disability. Freidt has received these accommodations throughout high school and college, and during examinations to obtain his firefighter certifications, the Davie County Enterprise Record reported.    
Despite his documented need for these accommodations, OEMS reportedly refused to provide them. 
The settlement marks the first time OEMS will provide a reader to an individual taking the EMT exam and the first time it will provide a paper copy of the exam since moving to a computer-based testing system in 2018.