4 EMS providers sue FDNY for alleged First Amendment violations
An EMT and three paramedics allege they were subjected to retaliation after speaking out about COVID-19 concerns
---
By Laura French
NEW YORK — Four FDNY EMS providers are suing the department for allegedly violating their First Amendment rights. 
The lawsuit filed Wednesday alleges EMT John Rugen and Paramedics Elizabeth Bonilla, Alexander Nunez and Megan Pfeiffer were subjected to retaliation after speaking publicly about working conditions and health concerns during the COVID-19 pandemic, according to Bloomberg Law.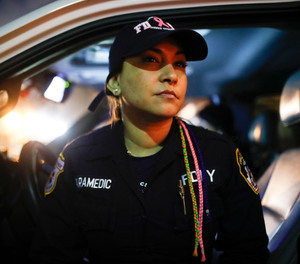 The suit states that the paramedics were placed on restricted status after speaking with the media about their experiences, and that Rugen, who has stage 4 lung cancer, was suspended without pay after an interview with ABC News discussing the impact of the pandemic on his life and family. 
"When the FDNY and the City of New York failed to provide them with adequate personal protective equipment (PPE) and accurate information about the disease, we had the right – and the responsibility – to raise our voices and tell the public about the serious threat of this insidious virus to the health and safety of all New Yorkers," said FDNY EMS Local 2507 President Oren Barzilay, who is also a plaintiff in the suit, according to AM New York. 
FDNY Commissioner Daniel Nigro and the city of New York are the defendants in the case. A New York City Law Department spokesperson sent a statement to AM New York saying, "The FDNY respects the First Amendment rights of its employees but those rights must be carefully balanced to respect the privacy rights granted under the law to patients receiving emergency medical care. We'll review the case." 
The plaintiffs are asking the city to return the four EMS providers to full duty and compensate them for lost wages and benefits. The suit was filed in the United States District Court for the Southern District of New York and the case will be presided over by Judge Lewis J. Liman.