Successful and sustainable EMS mentoring programs
Develop clear parameters with these roles for mentors, mentees and managers
---
By Jay Fitch, PhD, Fitch & Associates
"Mentoring is a brain to pick, an ear to listen and a push in the right direction," according to John Crosby. Crosby was a solicitor who also represented Massachusetts' 12th District in Congress the late 1800s and later served on the State Supreme Court. Crosby's simple definition is timeless and still resonates today.
I like to think of EMS mentoring programs as a steppingstone to both personal and organizational growth. Unfortunately, many programs start strong and then quickly fade, with mentoring becoming a stumbling block rather than a steppingstone. A lack of clarity on objectives, differing expectations and different levels of commitment on the part of mentor, mentee and the manager and have often been failure points for EMS mentoring programs. Getting it right requires time, energy and resources.
At the end of this article, download an infographic: Core Objectives of an EMS Mentoring Program
Mentoring is a structured long-term relationship focused on supporting the growth and development of the mentee. The mentor becomes a source of wisdom, teaching and support, but not someone who observes and advises on specific actions or behavioral changes in daily work.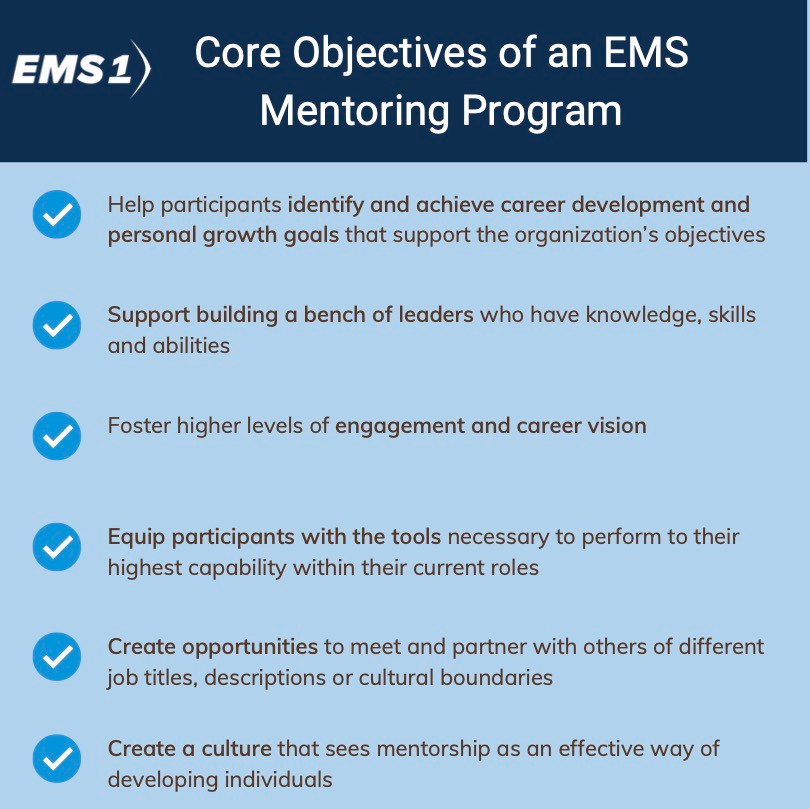 In addition to clear objectives, the role parameters for mentors, mentees and managers need to be clearly defined. Here's a brief summary of each:
Mentor role. The mentor focuses on transferring knowledge and helping the mentee with developing new skills, by asking questions to assist and challenge the mentee with developing a deeper understanding of their personal style, career, craft mastery, work/life balance and how to make a contribution in the world outside EMS. Mentors assist the mentee with reflecting on past successes and failures to identify strengths to leverage and weaknesses to mitigate.
Mentee role. The mentee focuses on achieving sustainable results, the right way. The mentee clarifies performance expectations and priorities, seeks to improve personal contributions, adjusts goals and priorities based upon the environment and focuses performance on "what" and "how." They invest the time required for the program meetings and assignments.
Manager role. The organizational leader focuses on getting things done through people by establishing clear performance expectations, providing business updates, sharing the context for decisions made and the impact on both the department and mentee. The leader also addresses job performance and links mentee contributions to reward their positive decisions.
Mentors also manage the mechanics of the one-on-one meetings, develop the capabilities of the mentee and help them convert feedback into action. They look for teachable and developmental moments. The mentor also serves as a sounding board, fosters awareness of blind spots and asks questions to develop options and potential solutions. Finally, mentors develop trusting, confidential and mutually beneficial relationships that provide encouragement feedback and insight.
In contrast, it's not the mentor's role to represent the mentees views to management, act as a mediator or play internal politics. Those roles describe advocacy, not mentorship. Likewise, it's important to realize that mentors are not professional coaches or consultants that provide a completely independent third-party perspective.
Mentoring pitfalls
There are some common pitfalls in mentoring we have observed working with EMS agencies over the years that are worth mentioning. These include:
Unrealistic expectations of what can be accomplished in a defined time period
A poor match between mentors and mentees
Too much or too little structure
Poor training for mentors, mentees and managers before initiating the program
Leadership apathy
Participants getting sidetracked with too much personal information or entanglements to the detriment of professional development
Careful planning can help avoid these pitfalls and keep your mentoring project on track.
A well-planned and supported EMS mentoring program can last for many years and have impact year in, year out. Once the program gains momentum, it typically has a positive broader effect on organizational culture. Mentoring programs are even more effective as a part of a well thought out suite of professional development activities for future leaders of the organization.

Read next
Growing your own: 6 ways to develop next-gen leaders
Mentoring, coaching and leader development/training programs share the same requirements for success
About the author
Jay Fitch, PhD, is a founding partner at EMS/public safety consulting firm Fitch & Associates. He has been involved in the development of thousands of EMS leaders. Jay was responsible for the first leadership development program sponsored by NAEMT, and was instrumental in the development of the American Ambulance Association's leadership development programs. Fitch and Associates is the sponsor of the Ambulance Service Manager's certificate program. Jay also serves as the co-chair of the Pinnacle National EMS Leadership Conference, now in its 15th year.
Fill out the form below to download the infographic: Core Objectives of an EMS Mentoring Program
INFOGRAPHIC: CORE OBJECTIVES OF AN EMS MENTORING PROGRAM