Orlando sues to keep firefighter who recorded commissioner during medical call fired
The city is asking a judge to reverse the decision of an arbitrator that reinstated the firefighter, who is facing felony charges
---
Tess Sheets
Orlando Sentinel
ORLANDO — The city of Orlando is asking a judge to reverse an arbitrator's decision that gave Orlando firefighter Joshua Granada his job back after he was fired for recording city commissioner Regina Hill without her permission in 2017.
The lawsuit, filed last month in Orange County circuit court, comes after the city in October asked arbitrator James Stokes to reconsider, arguing his decision was "explicitly based on a misunderstanding." Stokes wrongly said in his decision that Granada, who was charged with two felonies, had not been charged criminally.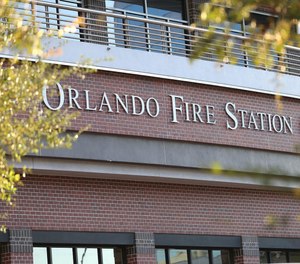 In the suit, Mark Levitt, an attorney representing Orlando, said Stokes did not respond to the city's request to reconsider, which alone is grounds to vacate his arbitration decision.
If Circuit Judge John Marshall Kest decides not to reverse Stokes' decision, Levitt asked that the judge replace the arbitrator with one who will rule on its October request.
An attorney for Orlando Professional Fire Fighters Local 1365, which was named as defendant in the suit, did not immediately respond to a request for comment.
In the city's court petition, Levitt claimed Stokes "ignored undisputed evidence" that Granada had faced criminal charges for recording Hill in 2017 while responding to a medical call at her hotel room and instead "concocted his own version of the facts out of thin air."
By awarding Granada his job with back pay, Stokes also went against city rules, which prohibit employees with pending felony charges from working at OFD, Levitt said.
Stokes' arbitration decision reversed Granada's firing and instead imposed a 240-hour suspension, concluding he violated a 2009 department memo requiring employees to get permission before making recordings.
Stokes did not immediately return a phone call to his office.
Granada faced charges after the Aug. 27, 2017 incident at a DoubleTree by Hilton hotel, where his crew encountered Hill lying on the floor inside a room. While assessing her, Granada said Hill became "belligerent and uncooperative" and at one point told a firefighter to "get your hands off me."
Granada said during an arbitration hearing Hill's remarks reminded him of an incident years prior in Orange County, in which a female patient accused a paramedic of touching her inappropriately.
"What saved him was they were recording in the back of the ambulance," Granada said, according to a transcript of the hearing.
So he turned on the voice recording app on his phone and placed it in his pocket, he said.
When his crew got back to the fire station, Granada said he played the recording for about nine firefighters because someone asked, but deleted it shortly after. He was fired from the agency in 2017.
Granada entered a pretrial diversion program in July 2019, which deferred his prosecution for a year. His charges remain pending until he completes the terms of an agreement with the state.
In his arbitration decision, Stokes wrote that the incident was "thoroughly investigated by the Orlando Police Department and a criminal case was not even presented to the State Attorney's Office," which meant the issue was solely "a personnel/disciplinary matter."
Stokes' decision hinged on that conclusion, Levitt's petition argues.
"The Arbitrator engaged in misconduct prejudicing the rights of [the city] by going outside the evidence presented during the arbitration proceeding and creating a version of the facts that the parties agree is inaccurate and that effectively nullified Mr. Granada's pending felony charges," Levitt wrote.
Stokes' decision was also in conflict with standards set by the Orlando Civil Service Board that prohibit employees from working while facing felony charges, Levitt said. Putting Granada back to work violated the state law that gives the board its authority, Levitt said.
Because of that rule, the city said it has not reinstated Granada to his position, despite the arbitrator's decision.
Orlando's firefighters' union, in an objection filed with the arbitrator Oct. 21, called the city's argument "hysterical ranting" and said asking to revoke Granada's back pay was "nonsense." The civil service board's rule, the union said, only applies to job applicants.
———
©2020 The Orlando Sentinel (Orlando, Fla.)
McClatchy-Tribune News Service