Grade school student made an honorary paramedic
The fifth grade student submitted the winning essay for a National Paramedic Services Week contest
---
MIDHURST, Ontario — An elementary school student spent a day away from school as an honorary paramedic to learn about emergency services.
Olivia Gater, a fifth grade student, submitted the winning essay for a National Paramedic Services Week contest to the County of Simcoe Paramedic Services. She received a certificate, first aid bag, and stethoscope before spending the day with a paramedic crew learning about the job.
Gater read her winning essay to the Simcoe County councilors at the start of National Paramedic Services Week, reported Barrie Today.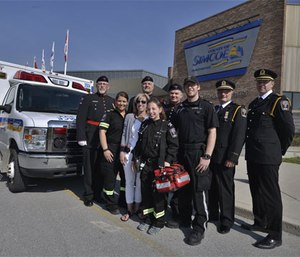 "Paramedics are essential to the community because they help people who need it," Gater said. "Paramedics must quickly assess the situation, prioritize and take action — and do this in a split second."
During her day as an honorary paramedic Gater toured a paramedic station, met with police and fire personnel to learn how emergency services work together, and assisted paramedics with a mock exercise.
"There could not be a more fitting theme for this year's National Paramedic Services Week — Paramedics: Enhancing Care — Changing Lives," said Warden Gerry Marshall.
"Our paramedics provide highly-skilled, life-saving services, while continually implementing new programs to better care for our residents. We look forward to recognizing Olivia as our 2016 Paramedic for a Day and know that she will get to see first-hand what it's like to work in this demanding and highly rewarding field from some of the best."