Hurricane Michael kills 2, leaves path of destruction
The hurricane carved an agonizing path of destruction across the Florida Panhandle, Georgia and southeastern Alabama and killed at least two people
---
By Jenny Staletovich, David Ovalle and Zachary T. Thompson
The Miami Herald
PANAMA CITY, Fla. — After carving an agonizing path of destruction across the Florida Panhandle, Georgia and southeastern Alabama for nearly 10 hours and killing at least two people, Hurricane Michael finally slowed to a tropical storm at midnight and continued to weaken early Thursday.
Michael roared ashore near Mexico Beach about 1 p.m. central time Wednesday, becoming the most powerful storm to ever strike the Panhandle and the fourth strongest to make landfall in the U.S.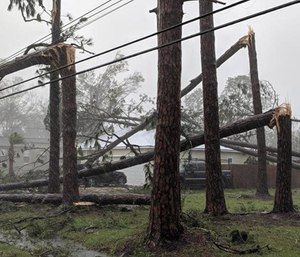 By early Thursday, the ferocious storm's winds had slowed to 50 mph as crossed South Carolina. At 8 a.m., the storm was located about 40 miles west of Columbia, moving at a fast 21 mph, National Hurricane Center forecasters said. The storm should continue weakening, but could regain some strength when it emerges over the Atlantic and becomes a post-tropical storm, they said.
After crashing ashore in Mexico Beach, a quaint low-slung beach town with a population of just 1,200, Michael plowing inland with powerful winds and storm surge. Waters crested rooftops and washed out roads. Parts of U.S. Highway 98, the main east-west road connecting the Panhandle, were impassable.
The smell of natural gas permeated the predawn air amid piles of debris and destroyed homes.
A landscape that once drew vacationers to secluded beaches was littered with refrigerators, toilets and staircases no longer connected to houses. Cars and SUV's were tossed from the highway. Houses were cracked open to reveal sodden furniture and wrecked belongings.
In Apalachicola about 35 miles to the southeast and just inside the perimeter for hurricane winds, a tidal gauge recorded water at 8.55 feet before 7 p.m. Wednesday. At a boat ramp in Spring Creek, water crested at 7.72 feet.
The toll of the damage was just beginning to be assessed at daybreak.
Michael was blamed for at least two deaths: a man in Gadsden County died when a tree fell and a girl in Seminole County, Georgia. At the Tyndall Air Force Base, about 15 miles northwest of Mexico Beach, the monster storm tossed over trucks and peeled back the roof of a massive airplane hangar. Fighter planes had been moved to Ohio earlier in the week.
Panama City was a war zone, with windows blasted out and streets littered with debris.
"I've never been through one this bad," said Jerry Nelson, who was born and raised outside Panama City, where winds ripped away bricks from the facade of the historic high school and mangled building after building. "It sounded like 40 jet engines going off."
On Cedar Key to the south, a tiny island particularly vulnerable to the fury of hurricanes, damage was thankfully far than feared.
Dock Street, the arty fishing town's main drag, was mostly spared, a stark contrast from the destruction from Hurricane Hermine in 2016, that slammed the island with a nine-foot storm surge. When the bridge to the island reopened about 6:30 p.m. Wednesday night, the relief was evident.
The town looked bruised, said Kathleen Troy, 57, as she and her husband walked their dog through dark streets, but not beaten.
"The community's pretty resilient," said Gregg Troy, 67.
Copyright 2018 The Miami Herald
McClatchy-Tribune News Service