Mass. hospital to be closed for 3 months after 10-alarm fire
The fire "has dramatically impacted our staff and the community over the past nine days," according to a statement from Signature Healthcare Brockton Hospital
---
By Ryan Mancini
masslive.com
BROCKTON, Mass. — Following a 10-alarm fire that broke out at Signature Healthcare Brockton Hospital on Feb. 7, the inpatient unit will be closed for the next three months so repairs can be made, according to an announcement on the hospital's website from Thursday.
No injuries were reported but 77 ambulances, six wheelchair vans, 31 fire trucks and seven ladders were used to evacuate 160 patients from the building, MassLive previously reported. Several patients were discharged, then safely removed from the hospital.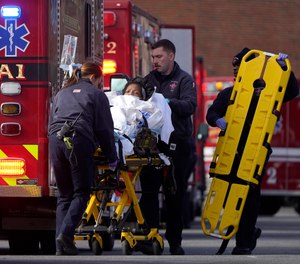 The fire "has dramatically impacted our staff and the community over the past nine days," the hospital said in its statement. "... Brockton Hospital has been a long-standing institution in the City of Champions for over 125 years. We plan to be here for the next 125 years, fulfilling the same mission to care for our community."
Signature Healthcare provided a three-phased plan ahead of the hospital's reopening to be fully operational and expanded.
To start, hours will be expanded at all Signature Medical Group ambulatory locations that allow access to cardiac testing, MRI, CT, ultrasound, diagnostic radiology, mammography, PET/CT and bone density.
Two new urgent care centers will open in the next two weeks. One will be at 110 Liberty St. in Brockton, open seven days a week from 8 a.m. to 8 p.m. The other will be at 650 Centre St. in Brockton, according to the statement.
The second phase specifies the three-month timetable before the hospital can reopen, when damage to the building needs to be assessed and evaluated, Signature Healthcare said. This phase and its timeline will rely on getting supplies in a timely manner.
The third phase will incorporate additional services to the hospital. Those services will only be identified after "assessments, evaluations and supply chains have been thoroughly reviewed," the statement read.
"Signature Healthcare owes tremendous gratitude to our state and local officials, government agencies, regional healthcare organizations and affiliates for their unwavering support of these goals," the statement concluded. "We are immensely appreciative of our staff and the help of our community partners in our shared goal of safely re-opening Brockton Hospital services."
All patients who evacuated were transferred to Good Samaritan Medical Center, WHDH reported. Now the only emergency room hospital open in the Brockton area, the doubling of patients has the hospital strained.
On Feb. 7, Brockton firefighters responded to a 7 a.m. report of a fire in the hospital's basement. Firefighters knocked down the fire after 9:30 a.m., but the severity of the incident and the need to evacuate so many patients elevated the incident to 10 alarms, requesting nearby departments for assistance, MassLive previously reported.
©2023 Advance Local Media LLC.
Visit masslive.com.
Distributed by Tribune Content Agency, LLC.
McClatchy-Tribune News Service