Chicago paramedic remembered as youth coach with 'compassion for kids'
Lt. Robert Spoon died after suffering thermal burns and a gunshot to the head
---
By William Lee
Chicago Tribune
CHICAGO — A Chicago paramedic and suburban firefighter who was found dead in his burning Mount Greenwood home was remembered Friday as a dedicated volunteer coach and a natural father.
Authorities were alerted to the fire in the 11400 block of South St. Louis Avenue and found Robert Spoon, 28, unresponsive, officials said.  Firefighters quickly struck out the fire, and Spoon was taken to Advocate Christ Medical Center in Oak Lawn, where he was pronounced dead at 2:38 p.m. Thursday, according to the medical examiner's office.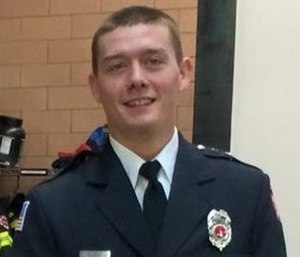 Following an autopsy Friday, the Cook County medical examiner's office determined that Spoon killed himself.
Spoon died from a gunshot wound to the head, with thermal burns a contributing factor, and his death was ruled a suicide, the medical examiner's office determined. The cause of the fire was not immediately known.  The Chicago police Bomb and Arson Unit was investigating.
Spoon was a 2½-year veteran of the Chicago Fire Department and a 10-year veteran of the Hometown Fire Protection District near Oak Lawn, according to the Fire Department.
Spoon was a lieutenant with the Hometown district, according to the agency's Twitter feed. In 2015, the district named Spoon firefighter of the year for his work coordinating its EMS department, according to minutes of a Hometown city council meeting.
"His drive and dedication for his job and for being an amazing father to his 2 year old son, were just a few of his most admirable traits," according to a GoFundMe memorial page page set up by his family.
News of Spoon's death was devastating to Joe Phelan, the head coach and president of the Badger Wrestling Club, a youth club where Spoon had volunteered as an assistant coach since he was young.
"He was a sweet, genuine type of kid," Phelan said Friday.
As a student-wrestler at Argo Community High School in Summit, Spoon brought his two younger brothers to join Phelan's wrestling program, and later began volunteering as an assistant coach, helping at tournaments, Phelan said. Wrestling was a major lifeline for Spoon, who met many of his longtime friends through the program.
"It was for the love of the sport," Phelan said. "It's really not something you do, it's something you are. It's really a tribal type of sport. If it's in you, it's in you forever. If not, you don't last long."
Phelan said he was always impressed by Spoon's determination in helping the boys who came through the program.
"It's not an easy job to volunteer coach for a youth sport," Phelan explained. "You don't get paid for it, the hours are terrible, and you spend a lot of time sitting on uncomfortable bleachers throughout an entire event. If you're in your early 20s and you're blowing your entire weekend coaching little kids instead of being out with other 20-year-olds for the weekend? It says a lot about the character of the kid."
Phelan, developed a bond with Spoon over the years, acting as a mentor and surrogate big brother for the younger man. In later years, they bonded as single fathers, as Spoon raised his son.
Spoon was as much of a natural as a father as he was as a coach, Phelan said.
"As he coached with me, he was one of the best young coaches I've had because of his compassion for the kids, his understanding and that's why he took to fatherhood like he did."
Phelan, who also works as a letter carrier, said he saw no clues to foreshadow Spoon's death, saying the younger man seemed upbeat when they exchanged text messages last week.
"He seemed like he was in such great spirits," Phelan recalled. "We were texting back and forth about his son, talking about how (Spoon) wanted to come back up and maybe coach again this year. He was going to bring his son to walk around on the wrestling mat," Phelan said. "He was talking positively…it sounded like he had an idea about what to do, like he was working things out."
Copyright 2017 Chicago Tribune