Ky. woman with chest pain dies after ambulance blocked by floodwaters
The Breathitt County coroner said that EMS providers could not get to the patient's location for hours
---
Valarie Honeycutt Spears
Lexington Herald-Leader
BREATHITT COUNTY, Ky. — A death in Breathitt County last week occurred when a woman died in her husband and daughter's arms because an ambulance couldn't get through the flood, the coroner said.
Breathitt County Coroner Hargis Epperson said the woman died because of a "complication of flooding" – emergency medical services couldn't get there for hours.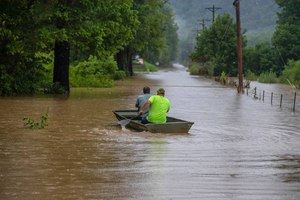 The woman who was having chest pains "died in the husband and daughter's arms," said Epperson.
Epperson said shortly before 9 p.m. Sunday that that county had a total of seven deaths. The six other deaths were due to drowning.
Epperson didn't release the victims' names, but a funeral home staffer did identify one person who died.
Jeanette Johnson, 65, of Clayhole, died in the flood in Breathitt County, said Karen Ellis, a staff member at Breathitt Funeral Home handling arrangements.
After posting on social media that she was searching for her missing sister, Teresa McIntosh said Saturday that Jeanette had died in the flooding: "We need prayer tonight and days to come," she said.
"We are so heartbroken it hurts so bad," she said.
The number of confirmed deaths as the result of flooding in Eastern Kentucky grew to 30 in an update by Gov. Andy Beshear Monday morning. Additional deaths reported by coroners in Perry, Knott and Breathitt Sunday night would raise the statewide death toll to 34 in last week's historic floods.
___
©2022 Lexington Herald-Leader
McClatchy-Tribune News Service