Colo. flight paramedic injured by laser pointed at plane
Flight for Life Paramedic Kelly Baker said the incident is still having an impact on her vision days later
---
By Laura French
LA PLATA COUNTY, Colo. — A Colorado flight paramedic was injured when someone pointed a green laser at a medical plane on Tuesday. 
Flight for Life Paramedic Kelly Baker was traveling on a plane flown by Pilot Zach Belnap when the aircraft became engulfed in green light from a laser beam as it was about to land at Durango-La Planta County Airport, according to The Durango Herald. Because laser beams become larger over a distance, the light covered the entire plane.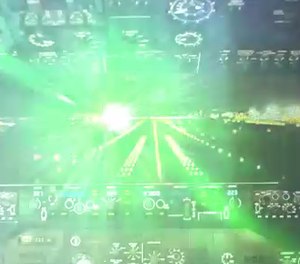 Belnap said he and Baker tried to protect their eyes by looking downward but needed to look up in order to keep flying the plane. Belnap said the plane was about 1,500 feet in the air at the time, and that the laser was coming from about a mile in front of it. 
Eventually, the laser was shut off and Belnap saw a pickup truck with its headlines on, which he flew around in order to determine the GPS coordinates of where the laser may have come from before heading back to the airport and landing the plane. 
Baker went to the emergency room after getting off the plane due to the light striking her eyes. She was referred to a retina specialist, who didn't suspect permanent damage but said retina damage could manifest over weeks and to come back later for a follow-up.
Baker said her vision was still affected two days after the incident; she reported seeing spots and having blurry vision, and that her eyes were sore and watery. 
The incident was reported to the La Plata County Sheriff's Office. Belnap said lasers had been pointed at Flight for Life planes in the past, and that his own plane had been hit once before. 
About three years ago, a Flight for Life crewmember permanently lost 30% of their vision due to a laser beam pointed at an aircraft, according to Belnap. 
Anyone with information about the incident was asked to contact the La Plata County Sheriff's Office.