Responder opens up during National Suicide Prevention Week
Firefighter-paramedic Brent Jones said he decided to get help after five of his colleagues died by suicide in the past five years
---
By EMS1 Staff
LINCOLN, Neb. — A firefighter-paramedic opened up about his struggle with mental health during National Suicide Prevention Week.
Lincoln Fire-Rescue firefighter-paramedic Brent Jones told 1011Now that he got the help he needed after five of his colleagues died by suicide in the past five years.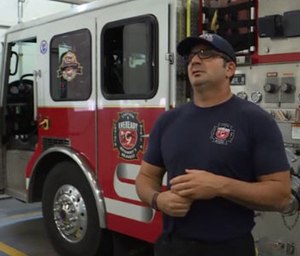 "I didn't ever think about ending my own life, but I thought if I were to perish in a fire that I would be better off because I would be in a better place mentally," Jones said.
Jones said he saw a tweet about a facility that could help him, and it changed his life.
"The International Association of Firefighters opened a treatment center for mental health in Maryland called the Center of Excellence," he said. "It just happened I got a tweet about it and I was having a day. And it just dawned on me that maybe I should get some help."
Jones received treatment for PTSD as the center's first patient. He learned how to cope with stress from the job, as well as everyday life.
"This is a job I've always wanted to do my entire life, since I was 3, and it was disheartening to me that the job that I loved so much was killing me," he said. "I don't compartmentalize anymore. I've learned it's okay to cry, it's okay to be upset. You have to address those and you have to face it. You can't bottle it up or put it away."
Jones, who was initially nervous about how his colleagues would react to his treatment, now speaks freely to them about his experience, and said it's made them stronger than ever. The department now requires all responders to be trained in mental health management.
"I'm no expert, but I've been there," Jones said. "I've had several firefighters tell me they're struggling. They want to talk now. I just don't want to see anyone get to where they think there's no other option."