Mich. city hires more responders as full-time EMS service moves forward
Adrian fire chief Tim Bartenslager asked the mayor, city commission and city administrator to increase the roster from 15 to 18 firefighters
---
By Lonnie Huhman
The Daily Telegram
ADRIAN, Mich. — In a decision expected to help move the city toward its own full-time ambulance service, the Adrian City Commission approved the hiring of three new firefighter/ paramedics Monday.
By a 6-0 vote, the city commission approved the hirings and authorized the city finance director to make a budget amendment to use funds from the general fund reserves for this additional expense.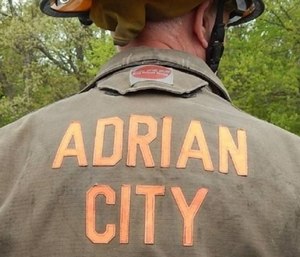 Commissioner Tom Faulhaber was absent and has been for each meeting this month as he is out of town due to work.
Adrian fire chief Tim Bartenslager asked the mayor, city commission and interim city administrator to increase the department's roster from 15 to 18 firefighters. Around 37 percent of the time, the city department has shifts where there are only three on duty.
"These additional positions," he said, "will allow the department to provide current services in a safer manner. As you're aware, working with a minimum strength of three firefighters increases the risk of injury at a scene or incident."
The city budget for the next fiscal year, which begins July 1 and has been approved without taking this into consideration, will need to be adjusted.
"With your approval, I would like to proceed immediately with the hiring of three firefighter/paramedics to begin the process of staffing the ambulance service that will be launched in the upcoming months," Bartenslager said in his request.
Within the current contract, Bartenslager said the allowance is for two firefighters to be allowed off at any given time.
"By hiring three firefighters, we will increase our shift strength to six, while providing minimum shift strength of four, and allow for a safer work environment," he said.
Bartenslager outlined in the current ambulance proposal that transporting full-time will require a total of six additional personnel. Hiring half of them now will allow them to gain experience, he said, as they learn streets, operational policies-procedure and get familiar with equipment, "as well as reduce departmental stress caused by the orientation of multiple employees at one time. In addition, the extra three firefighters will be available for rescue and fire call backs."
The commission appears to be in support of the added manpower and ambulance plan moving forward.
Commissioner Kirk Valentine said in the premeeting, no matter how anyone feels about the ambulance service question, the issue for the department remains to be with manpower. Commissioner Allen Heldt agreed and said the ambulance service proposal is an out-of-the-box, creative way to add firefighters and paramedics.
Commissioner Brad Watson said it should be noted the projected revenue from the ambulance service could lead to some excess money going into the general fund after ongoing expenses, such as paying for the firefighting/paramedic staff, is covered.
Mayor Chuck Jacobson said the decision to hire new fire department staff was a first step in one of the recent strategic plan proposals, so he was glad to see it approved and hopes it leads to a full-time ambulance service. He said the plan should not cost taxpayers more money, but it should be self-sustaining while helping provide a better service to the city through adding manpower.
In originally proposing the idea, Bartenslager said establishing a full-time ambulance service and adding new hires to the department should help with the issues of staffing limits and department sustainability.
In addressing the current ambulance provider Lenawee Community Ambulance's recent counter argument, Bartenslager said there is no plan to use a SAFER grant. This grant helps municipalities hire emergency staff, but after so many years — typically three — the grant goes away and the municipality has to pay in full for those new hires.
Bartenslager said funding would come from the city budget and then revenue generated from the ambulance service. He said he doesn't recall ever saying the proposal would be a losing venture for the city. He said the numbers over the past five years have shown an increase in medical calls that, in turn, would bring in revenue.
In 2017, Bartenslager said, there were 3,783 calls for service and there were an estimated 2,837 transports. He said the average revenue collected per transport last year was $267. The total projected revenue that would have been collected for the city in 2017 was $757,479.
Bartenslager again said the plan projects it would take up to $300,000 to get the new service up and running. He said $220,000 of that would be to add a new ambulance. He estimated it would take potentially $500,000 per year to support the additional six firefighters/paramedics and there would be additional costs for such things as vehicle replacement and billing services, which potentially could increase the costs by another $158,000.
He said generated income from the service would play a big part in covering these costs.
Copyright 2018 The Daily Telegram