Denver medic mourned in line-of-duty service
EMS, fire and police agencies from across Colorado honored Brian Schimpf, who died Nov. 23 from complications from an injury
---
DENVER, Colo. — More than 100 police, fire and EMS agencies from across Colorado honored fallen Grand County EMS and Denver Health Paramedic Brian Schimpf in a line-of-duty memorial service on Thursday.
Schimpf, 33, died Nov. 23 from complications of an injury he received while on duty as captain with Grand County EMS. He died surrounded by family and friends. He underwent surgery on Nov. 20 after the accident, but was placed on life support due to complications with the surgery. He never regained consciousness, according to 9News. 
Schimpf was born in Pusan, South Korea, and adopted by his parents David Schimpf of Duluth, Minn. and Ann Linnea of Freeland, Wash. on March 24, 1981. He grew up in Duluth and graduated from South Whidbey High School in Langley, Wash. It was here that he began to pursue a life of service when he became a volunteer firefighter and EMT from ages 16-18.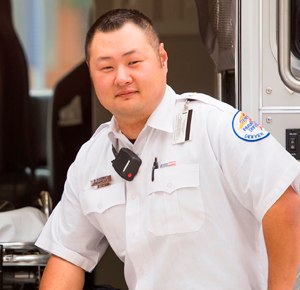 He attended Oklahoma State University's fire management program and the University of Minnesota Duluth, and also refereed and coached youth soccer in the city.
He received his associate's degree from Red Rocks Community College in Colorado, and his paramedic certification in 2004 from St. Anthony's Hospital Paramedic School in Denver. He worked most of his career at Denver Health, where he was an instructor at Denver Health Paramedic School and was named Preceptor of the Year.
Most recently, he was employed as captain of Emergency Medical Services for Grand County, Colo. He was an award-winning professional who leaves a legacy in his teaching skills and mentoring of young paramedics and EMTs.
Schimpf was also a voracious reader and an avid outdoorsman. He loved camping in the Boundary Waters Canoe Area and hiking and jeeping in the Colorado high country. He was a fine downhill skier. He is mourned by family, friends and the paramedic and emergency services community, who respected his compassion, presence and leadership.