Texas paramedic loses home, 6 dogs in fire
The paramedic and his wife, a nurse at a local hospital, were caring for patients when the fire started
---
By Claire Z. Cardona
Dallas Morning News
MANSFIELD, Texas — A MedStar paramedic and a nurse lost their home and several pets early Thursday in a fire that started while they were both at work, officials say. The paramedic and his wife, a nurse at a local hospital, were caring for patients when the fire started about 4 a.m. in the 600 block of Live Oak Drive in Mansfield, Fire Department spokesman Jeff Smith said.
No one was home, but two adult dogs and four puppies died in the fire, he said.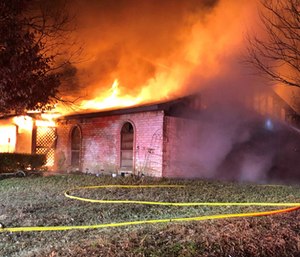 By the time firefighters arrived at the house, flames were going through the roof, Smith said. It took about two and a half hours to extinguish the blaze.
In a written statement from MedStar, the paramedic, who has not been named, thanked the Mansfield Fire Department for its response and said "he and his family are grateful for all the expressions of support and prayers."
The cause of the fire, which rendered the house a total loss, has not been determined. In addition to assistance from the American Red Cross, MedStar team members have also been helping the family.
Copyright 2019 Dallas Morning News
McClatchy-Tribune News Service