Md. first responders seek to protect themselves from accidental overdose
Departments are scrambling for ways to protect their first responders and identify the powders and pills they encounter on the scenes of overdoses and crimes
---
By Meredith Cohn
The Baltimore Sun
BALTIMORE — In December, Baltimore County police evacuated their Woodlawn precinct overnight after three officers needed treatment for exposure to fentanyl, a potent opioid responsible for the skyrocketing number of deaths among drug users.
Months earlier, a Harford County deputy needed the overdose reversal drug naloxone and two paramedics were treated for exposure after responding to an overdose call.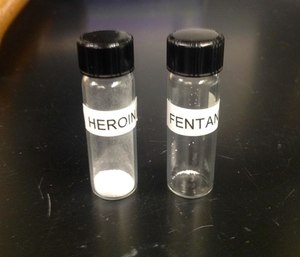 Such reports have sent a growing number of police and fire departments across the country scrambling for ways to protect their first responders and identify the powders and pills they encounter on the scenes of overdoses and crimes.
"About a year ago I began getting calls from friends and people I knew who worked in hazmat and they wanted a device to detect and identify fentanyl quickly," said Michael Frunzi, senior scientist and product manager for Smiths Detection, an Edgewood-based company that makes a variety of detection devices for military and security purposes.
The company is one of several that makes hand-held and lab-based equipment to detect explosives, radiation and drugs used by agencies across the country, as well as in airports and other entry points.
Many police and fire departments, particularly those with hazardous materials units, have long had equipment to detect some drugs and explosives. But Frunzi said more calls have been coming from police and other first responders who specifically want to detect fentanyl and the growing number of similar drugs being produced, largely in Chinese labs, and shipped to the United States.
Law enforcement officials say fentanyl is often mixed with heroin or other substances and sold to users, many seeking stronger highs. Public health and law enforcement officials say those users don't often know fentanyl, considered 50 times more powerful than heroin, is present and can cause a fatal overdose even in tiny amounts.
There were 799 fentanyl-related deaths recorded in Maryland in the first half of 2017, 70 percent more than in the same period a year earlier. Nationally, an estimated 20,000 people died last year from fentanyl and other synthetic opioids. Police and rescue squads are often called to their aid, as well as to sites where drugs are processed and packaged.
It's not clear how often police and emergency responders are harmed by fentanyl, but last June the federal Drug Enforcement Agency issued a formal warning to first responders about the overdose risk.
The accidental overdose risk to emergency responders is low because it takes time and the ingestion of enough fentanyl, according to the American College of Medical Toxicology and the American Academy of Clinical Toxicology. The groups recommended training for responders that includes washing hands promptly and carrying naloxone.
Observers say the detection equipment isn't a must, and the technology, while improving, isn't always sensitive enough to detect small but dangerous amounts of fentanyl or able to identify comparable drugs whose chemical makeups are not specifically included. Further, not every department can afford the tens of thousands of dollars such devices can cost.
Nonetheless, Congress passed legislation called the Interdict Act in December that included $15 million for portable chemical screening devices for use by U.S. Customs and Border Patrol at ports of entry, as well as at mail and private-carrier facilities. The goal was to protect first responders but also to help them intercept fentanyl before it is distributed around the country.
"The Interdict Act responds to the needs of these first responders and recognizes that the 21st-century threat of synthetic opioids requires the latest tools to stop them," said Rep. Niki Tsongas, a Massachusetts Democrat who sponsored the bill, at the time the legislation was passed. "Providing CBP with more modern equipment and resources will improve their ability to keep these harmful substances out of our country. This bill will be a cutting-edge tool for eliminating synthetic opioids, like fentanyl, from the equation."
In its warning to first responders, the DEA outlined steps and protective gear they should use when fentanyl may be present at the scene of a crime or overdose. The agency said fentanyl can be ingested through the mouth, inhaled through the nose or mouth or absorbed through the skin or eyes. And just two to three milligrams — about the same as five to seven grains of salt — can depress respiration within minutes and lead to death.
Local departments are relying on that guidance and training officers, including Baltimore County police, who had two other exposure incidents with officers before December. Everyone on the county force also carries a protective kit with gloves and masks, said Shawn Vinson, county police spokesman.
Todd Edwards, a spokesman for the DEA's Baltimore district office, said reports of responders locally and along the East Coast needing treatment prompted a review of its own procedures and development of the guidance.
The DEA did not suggest use of the devices, but Edwards said the hand-held technology is another useful tool that can tell officials when fentanyl is present. But he said the equipment and those operating it can always miss the drugs.
"It's another indicator," Edwards said. "But common sense and caution always dictate what you do."
Edwards pointed to a device's recent use in Howard County as a good application of the tool.
Police officers called on the county hazardous materials team to check the back seat of a patrol car where a suspect had tossed some powder on the floor mat.
"They wanted to know if they should be traveling with it," said Capt. Jeremy Clancy, the hazmat coordinator in the county fire marshal's office. "We needed to know how to clean it up."
Clancy said the equipment also has been used to evaluate other suspected threats, such as anthrax and ricin in the mail and liquids in unlabeled containers, though there has been an increase in calls for about fentanyl, which was what was found in the police cruiser.
Smiths Detection's Frunzi said it's these stories that have propelled interest among agencies in adding fentanyl detection capabilities to equipment they already use or in investing in new devices, which can cost $20,000 to $50,000 depending on their capabilities and sensitivity.
The devices are designed to sniff out or otherwise detect the chemical signature of particular drugs or explosives. Smiths added chemical signatures for up to 17 types of fentanyl and chemically similar drugs into its hand-held machinery and equipment used at airports, correctional facilities and border stations.
Frunzi said hand-held devices can differ in sensitivity to the drugs. One kind can detect drugs without taking them out of a bag or container. Sometimes a machine can display exactly what is present, but other times training and experience helps users understand when there is a less obvious threat, he said. Scientists are available at Smiths to help interpret results.
The portable devices have tested well, but fentanyl poses unique problems, said Edward Sisco, a research chemist who partnered with Jennifer Verkouteren, a physical scientist, to study the technologies for the National Institute of Standards and Technology.
If fentanyl comprises less than 10 percent of a sample it might not register easily, and a street sample could have just 1 or 2 percent fentanyl, he said. Illicit labs also are churning out similar drugs that don't register at all.
"There is value in these devices," Sisco said. "It's key to make sure users understand where weaknesses lie. If you don't get a hit, that may not mean there is nothing there."
Dr. Leana S. Wen, Baltimore's health commissioner, said a safer bet for emergency responders is to treat any suspicious-looking substance as dangerous and follow protocols for handling and cleaning the scene and the individuals who may have been exposed.
"We don't want responders or bystanders to be afraid to respond to someone who is overdosing," Wen said. "Take precautions but do not be afraid to respond."
Copyright 2018 The Baltimore Sun