Houston approves ambulance fee hike, additional EMS charges
Taking a city ambulance to the hospital will go up nearly 70 percent that fire department leaders hope will help Houston keep pace with rising costs
---
HO-City-Council-approves-ambulance-fee-hike-new-EMS-charges-0320
Jasper Scherer
Houston Chronicle
The cost of taking a city ambulance to the hospital will go up nearly 70 percent under a measure approved by City Council Wednesday that fire department leaders hope will help Houston keep pace with rising costs.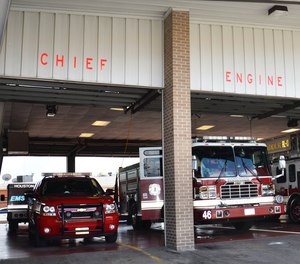 Additionally, council approved three new emergency services fees aimed in part at dissuading repeat callers from using ambulance service as a convenience.
The ambulance transport fee will rise to $1,876.40 from $1,104.65, in the first substantial hike since 2012, aside from annual adjustments to account for inflation. Since then, officials said, ambulance transport expenses have climbed, leaving taxpayers to foot more of the bill because HFD is not billing enough to cover its own costs.
The city levies an additional ambulance charge of $14.36 per mile that remains unchanged.
Fire Chief Sam Peña hopes the transport fee increase will enable the city to collect additional revenue from Medicare and Medicaid reimbursements, which are based on the average EMS rates in each region. Around Houston, Peña noted, HFD has an outsized influence on the reimbursement rate because it provides the region's largest ambulance service.
By keeping the rates arbitrarily low, Peña said, "there's been no incentive for Medicare and Medicaid to revisit the formula and adjust their rates upward."
Meanwhile, the package of new charges includes a $365 fee when a patient dies at the scene after paramedics arrive, a $175 fee when a caller is treated at the scene but not transported to the hospital, and a $175 fee when a caller requests to be moved, such as after a fall.
For the latter scenario, Peña said, residents will be allowed four such calls before they are charged the new fee.
"I just want to make sure that it's not about discouraging people to call 911 if they need the service," he said.
In the 2017 fiscal year, Houston collected about 39 percent of its $110 million in annual bills for EMS transport, according to fire department records.
The new ambulance fee matches what the city's finance department found to be the average cost of providing EMS transport.
At-Large Councilman Mike Knox registered the lone opposition vote Wednesday, arguing that a hike in ambulance rates is the wrong way to seek larger Medicaid reimbursements.
"By raising ambulance fees, we're going to unduly impact people who don't have insurance," he said.
Instead, Knox said, "we need to negotiate with the federal government to get Medicaid realistic about their reimbursement, which they're not."
In 2016, the city's finance department found that the Centers for Medicare and Medicaid Services' payment rate is far lower than the average cost of providing service.
Still, fire department officials expect to collect tens of millions of dollars in additional revenue if Medicare, Medicaid and private insurers increase their reimbursements based on the fee hike. About half of Houston residents who call 911 have federally funded health care, according to city data, while about 13 percent have private insurance.
The city collects about a third of what it bills the CMS, and recoups about 70 percent of bills for those with private insurance. The remaining one-third of callers are uninsured, and the city collects less than two percent of those bills.
The new charges, meanwhile, fall well short of the $1,405 average cost of responses in which paramedics do not transport callers to the hospital. The fire department responded to nearly 30,000 such calls in the 2018 fiscal year, city data show, and recouped about 15 percent of the total amount billed.
Rather than covering the full cost, the new charges are intended to stop repeat callers from using the fire department because it is the most convenient option, even in a non-emergency situation. For instance, a caller might ask paramedics for help moving from bed to a wheelchair, then call hours later asking to be moved back, Assistant Chief Justin Wells said.
The changes came at the recommendation of a city-commissioned study conducted by the financial advisory firm PFM Group. It is the same study Mayor Sylvester Turner has cited in his plan to lay off hundreds of firefighters to help fund raises required by Proposition B, the pay partity measure approved by voters last November. The study, Turner has said, recommends reducing the number of city firefighter positions. The firefighters union disputes that recommendation.
———
©2019 the Houston Chronicle
McClatchy-Tribune News Service