Slain FDNY EMT's son: 'I know she didn't die in vain'
Yadira Arroyo, 44, was on a medical call when she was fatally run over by a stolen ambulance
---
Associated Press
NEW YORK — The eldest son of a fire department medic fatally run over by a stolen ambulance urged her colleagues and loved ones Saturday to be humbled rather than sad in her memory.
"Seeing everyone she affected, I know she didn't die in vain," Jose Montes, the eldest of slain Fire Department emergency medical technician Yadira Arroyo's five sons, told the family members and colleagues gathered at the Bronx stationhouse where the Stephen Siller Tunnel to Towers Foundation announced it was giving $100,000 to the sons.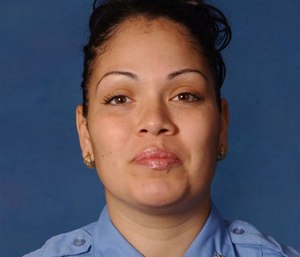 "I know my mother wouldn't have wanted people to be sad today. She would rather everyone — if you could take something from this, just let it humble you," said Montes, 24. "Just learn from this. Learn to hold your family closer every day, because life is short."
Meanwhile, fire department announced funeral arrangements for Arroyo, a 14-year veteran of its emergency medical services. Her wake will be from 2 p.m. to 4 p.m. and from 7 p.m. to 9 p.m. Thursday and Friday at the Joseph A. Lucchese Funeral Home. Her funeral is scheduled for 11 a.m. March 25 at St. Nicholas of Tolentine Roman Catholic Church. Both are in the Bronx.
Arroyo, 44, and another EMT were responding to a routine medical call Thursday when 25-year-old Jose Gonzalez hopped on the back of the ambulance, then darted into the driver's seat and ran Arroyo down after a man on the street flagged the vehicle down to say Gonzalez had stolen his backpack, authorities said.
Gonzalez has been charged with murder. He told reporters Friday he was innocent, while his lawyer said he's mentally ill and didn't act intentionally.
Arroyo was a dedicated EMT who responded to calls even during asthma attacks and was a mother figure to her co-workers, colleagues have said.
The Stephen Siller Tunnel to Towers Foundation, named for a firefighter killed in the Sept. 11 terror attacks, honors first responders and military members.
The donation is to be put in a trust for Arroyo's sons. The youngest is 7.
"Me and my brothers, we're all going to stick together," Montes said. "We're going to be here for each other and support each other in every single way."