FDIC 2023: EMS transformation and inter-team communication
FDIC presenters offer up tips on coordinating critical care team delivery, and adopting transformative actions once considered heresy
---
INDIANAPOLIS — FDIC will be returning to the Indiana Convention Center and Lucus Oil Stadium in Indianapolis April 24-29. Over 800 vendors are expected to exhibit their apparatus, products and services, and attendees will have the opportunity to attend events like the Women in Fire Conference, JEMS Innovation Summit, Metro Officers Innovation Briefing, the International Society of Fire Service Instructors member social, the 9/11 Memorial Stair Climb, and the Stop, Drop, Rock 'n' Roll bash. Follow all of our FDIC coverage at www.ems1.com/fdic/.
Fire and EMS attendees from around the world will partake in classroom workshops and hands-on training (HOT) evolution on subjects like active shooter response for first-due companies, advanced vehicle extrication, and search and rescue techniques.
Here's a glimpse at what's in store for FDIC 2023 attendees.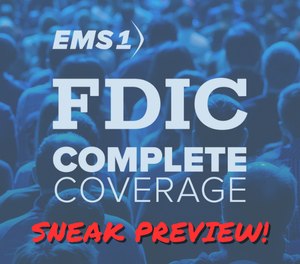 Current state of the EMS transformation
Matt Zavadsky, MS-HSA, NREMT, chief transformation officer of MedStar Mobile Healthcare, in Texas, will provide an overview of how new programs and initiatives are generating value for key stakeholders on Friday, April 28.
I spoke with Zavadsky about his session and he told me, "EMS service delivery, regardless of the type of agency providing the service (public, private, hospital-based, non-profit, volunteer, etc.), has never been more challenging. Workforce shortages, skyrocketing expenses, supply chain disruptions and stagnant reimbursements are all converging and wreaking havoc on the ability to deliver the level of service historically expected in many communities."
On the bright side, Zavadsky said, "these challenges have afforded EMS and community leaders the opportunity to critically re-evaluate what effective EMS service delivery looks like, or at least should look like."
Zavadsky will detail how transformative actions that would have been considered heresy just a few years ago (e.g., lengthening response time expectations for some 911 calls, transitioning from all ALS deployment to a mix of ALS and BLS deployment, and detoxing from dual paramedic units to single paramedic units), are now being implemented.
---

Read more:
Is EMS-on-demand the next big transformation for the profession?
Learn how MedStar made the jump to an on-demand subscription service that utilizes MIH/CP clinicians
---
Extrication and EMS: Coordinating team delivery of critical care
Captain Rommie L. Duckworth, MPA, LP, EFO, FO, with the Ridgefield (Conn.) Fire Department, will dive into a response type found in virtually all communities in the U.S.; motor vehicle extrication.
I asked Duckworth why he chose this topic and he said, "in too many areas, rescue and EMS responders are either 'bumping heads' or trying to steer clear of each other during extrication." On Thursday, April 27, Duckworth will share his personal experience and lessons he's learned through 30 years as an extrication and EMS instructor to help attendees understand how they might be able to better coordinate fire, rescue and EMS efforts, without people feeling like someone is trying to take over or tell them how to do their job.
In some areas, fire, rescue and EMS operations are all provided by different organizations. In other locations, they are all one agency, Duckworth noted. Regardless of how rescue responses are structured, there's never a guarantee that they will run smoothly. "Too many agencies run into avoidable problems when it comes to coordinating their EMS and rescue efforts," he said. "I want to shine a light on these problems and highlight the solutions that some agencies have used to overcome them. Not every solution will fit every organization, but we have packed enough tips and tricks into this session so that every attendee will be able to help their department move towards more efficient and effective responses."
Duckworth noted the one takeaway attendees will come away with is how to communicate key information, especially to people in another agency, without telling them what to do. "For example, vehicle rescue or motor vehicle extrication are terms that make us look at the situation the wrong way," he said. "We aren't rescuing a vehicle. Even if your job has nothing to do with EMS, you are still rescuing a patient. To know which extrication tools and techniques are most appropriate, sure, you have to look at the vehicle, but you absolutely must know what the patient needs."
He added, "similarly, you could be the EMS provider in contact with the patient and have virtually no rescue training, but you can still communicate patient needs along with critical cues such as identifiable no-cut areas that are only visible from inside the vehicle."
Attendees will come away better able to identify key information and communicate it to their colleagues so that everyone is working more effectively towards the best outcome for the human beings trapped in the car or truck.
---

Catch more of Duckworth in action
Watch on-demand: Evidence-based sepsis management with Rom Duckworth
Real-world, practical methods for identification, assessment and field treatment of life-threatening sepsis
---
Keynote: 'The Invisible Hand on the Fireground'
During the Opening Ceremony Keynote on Wednesday, April 26, FDNY Battalion Chief Daniel Sheridan will highlight a fire that occurred on Christmas Eve in 1990, in which many firefighters would have surely been crushed when a five-story building collapsed where they had just been standing, were it not for the actions of a firefighter who was detailed for the night to the 17 truck. 
Chief Sheridan, a 37-year veteran, is commander of the FDNY's third battalion in the South Bronx. A National Instructor Level II, he is a member of the FDNY Incident Management Team and president of the Mutual-Aid Training Group.
Keynote: 'Three-Sided Success'
Assistant Chief Brian Zaitz of the Kirkwood (Mo.) Fire Department will speak to the key to balance –focusing on what is important for success: physical skills, mental fortitude and emotional wellbeing. On Thursday, April 27, Zaitz will share how these three keys, in balance, provide the foundation for a long, impactful career and a healthy home life. 
Chief Zaitz is a 22-year veteran of the fire service, and assistant chief of operations and training for the Kirkwood FD. He is a safety officer for FEMA US&R's Missouri Task Force 1. He is also the first vice president of the International Society of Fire Service Instructors, president of the St. Louis County Training Officers Association, a Fire Service Advisory Board member for Detectogether, and a commission member for the State of Missouri Fire Safety and Education commission.
Keynote: 'An Unquenchable Faith'
Brian Brush, chief of training for the Midwest City (Okla.) Fire Department, will discuss the unquenchable faith in mission and each other that builds trust and belief inside and outside of the fire and emergency services on Thursday, April 27. Chief Brush, a 26-year veteran of the fire service, will share how engaging, empowering and challenging the mission driven among responders is critical to survival in service to the communities and one another.
Chief Brush has a master's degree from Oklahoma State University School of Fire Protection and Emergency Management, and is a graduate of the Executive Fire Officer Program. 
Remembering Chief Bobby Halton
Chief (Ret.) David Rhodes, Education Director, FDIC/Editor in Chief, Fire Engineering; Captain Bill Gustin, Miami-Dade (FL) Fire Rescue; Chief (Ret.) Rick Lasky, Lewisville (TX) Fire Department; Deputy Assistant Chief (Ret.) John Norman, Fire Department of New York; and Battalion Chief (Ret.) John Salka, Fire Department of New York, will lead a session on Wednesday, April 26, honoring Chief (Ret.) Bobby Halton, education director of FDIC and editor-in-chief of Fire Engineering, who passed unexpectedly on December 19, 2022. Attendees are encouraged to bring their stories and reminiscences about Halton's 18 years of serving in those roles to pay him tribute.
The 2023 5 ALARM 5k Run to Remember is also dedicated to Chief Halton, a supporter of the Firefighter Cancer Support Network as mentor, advocate and cancer survivor.
Chief Halton will be posthumously awarded the Lifetime Achievement Award at FDIC 2023.