Firefighters, paramedics questioned in fatal Fla. nursing home incident
Crew members said they were only focused on transporting the patient who was the subject of the current 911 call
---
By Megan O'Matz
Sun Sentinel
FORT LAUDERDALE, Fla. — Hollywood Fire Rescue crews were inside a hot nursing home to rescue dying people on the Monday after Hurricane Irma, then again Tuesday and twice Wednesday before forcing an evacuation.
What they saw and how they responded inside the nursing home where 12 people died after 62 hours without air conditioning is the subject of a deposition examined by the South Florida Sun Sentinel.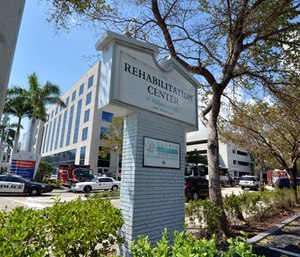 Hollywood Fire Rescue Lt. Amy Parrinello, in a sworn interview Dec. 5 with a nursing home attorney, had the same answer to dozens of questions about what she and her team observed: "I don't recall."
Pressed on whether she and her team recognized that other residents were in danger, Parrinello said the crew had a singular focus: quickly transporting the patient who was the subject of the current 911 call to the hospital.
Parrinello declined to talk to the Sun Sentinel, saying she is not authorized to speak to the press. Raelin Storey, spokeswoman for the city of Hollywood, also declined comment, citing an ongoing criminal investigation into the deaths.
The deposition was taken by attorney Susan Smith of Tallahassee, one of the lawyers fighting the state's move to revoke the nursing home's license for neglect of the elderly. The state alleges residents were exposed to "increasingly excessive heat," with fatal consequences.
The temperature inside the Rehabilitation Center at Hollywood Hills climbed to 99 degrees after several days without air conditioning, law enforcement concluded.
Inside the nursing home where 12 died during Hurricane Irma: 99 degrees
Hurricane Irma knocked out power to the nursing home about 3 p.m. on Sunday, Sept. 10. In the three days that followed, Hollywood Fire Rescue teams were called to the nursing home four times before relocating all residents after the fifth call.
On Monday, a rescue crew that did not include Parrinello responded shortly after 6 a.m. for an 81-year-old woman with trouble breathing. Available records don't reference the heat inside the building during that visit, but that evening a nursing home representative told the operator of a state emergency hot line that the home had no air conditioning, spot chillers were not cooling the facility, and "It's like 80 degrees in the building right now," according to a transcript released by the governor's office.
On Tuesday, Sept. 12, shortly before 1 p.m., Parrinello and two colleagues answered a 911 call from the nursing home to assist 93-year-old Carlos Canal, who had a fever and was short of breath. He suffered from heart disease, dementia, pneumonia and other ailments, and died a week later, state records show. The medical examiner ruled Canal's death a homicide caused by the heat, along with the deaths of 11 other residents.
Asked if she felt it was exceedingly hot in the building that day, the lieutenant testified: "I do not remember." She said neither she nor her colleagues noted anything that should have triggered an evacuation. "I feel like I made the appropriate call given the circumstances at that time," she said.
Asked if she saw any other residents who were compromised or in trouble, Parrinello said: "We just responded to the one patient. We were there for the one patient."
The attorney pushed back: surely Parrinello observed other residents while on the way to Canal's room?
"Not necessarily," Parrinello replied. "We don't go into every room; we just went into that patient's room."
Asked if she saw patients in a hallway, near fans, Parrinello said: "Not that I recall, no."
Fourteen hours later, at 3 a.m. on Wednesday, Sept. 13, Parrinello and her crew returned to the nursing home for an 84-year-old woman in cardiac arrest. A nurse, in the 911 call, told a dispatcher she noticed the woman slouch over. "I realized that she's not breathing." The staffer added: "We don't have any air conditioning."
The ailing woman was Betty Hibbard, who died later that afternoon. A hospital emergency room nurse noted at 3:29 a.m. that Hibbard had a temperature of 107 degrees and that Hollywood Fire Rescue crews had told the hospital the nursing home "does not have AC."
Such a high fever usually only occurs from environmental conditions: like being trapped in a hot, locked car, and typically is lethal, medical advisories warn.
Asked in the deposition about the temperature in the Rehabilitation Center at Hollywood Hills then, Parrinello said: "It was hot." She said she did not know how hot, but: "It was hot enough for us to notice."
At that point, Parrinello said, the fire rescue team asked staffers at the nursing home about the heat. "They stated that they were fixing the air conditioner," she testified. "They had set up fans, coolers."
Parrinello said she didn't see anyone putting out more fans or making repairs but a male staffer said: "It's being worked on right now."
"I took his word for it," Parrinello said.
Paramedics returned to the nursing home an hour later, at 4 a.m., to assist yet another person: Carolyn Eatherly, 78, who was struggling to breathe.
Eatherly arrived at Memorial Regional Hospital in cardiac arrest, with a temperature of 108.3, according to state regulators.
Hospital Emergency Department clinical records show at 4:33 a.m. a nurse wrote: "EMS states conditions of facility were untenable due to lack of functioning AC. EMS states they did note fans however they were inadequate in relationship to patient's location whereabouts."
Parrinello notified a battalion chief and called the state Department of Children and Families, which takes allegations of elder abuse, to "report concerns about the facility," according to the city.
Under Florida law, paramedics are required to report suspected abuse or neglect of vulnerable adults, such as nursing home residents.
She testified in the deposition that the building did not seem hotter than in her prior trip there, but she called DCF because "it seemed that there was no improvement."
While she was on the phone with DCF, Parrinello said, a firefighter overhead yet another distress call from the nursing home come over a police radio. At that point there were "simultaneous incidents" occurring at the nursing home.
Three men were found dead. Sixty percent of the home's 141 residents were overheated or dehydrated, state records show.
Hollywood Fire Rescue — along with doctors and nurses who responded from Memorial Regional Hospital, across the street — decided they had to evacuate the full building, a massive task that began about 6:30 a.m.
Parrinello recalled that the nursing home initially resisted the evacuation, telling medics "the patients were all okay" and that the staff "had done rounds on them and checked their vital signs and that they were within normal limits."
Said Parrinello: "And when the evacuation began, they stated that again, that they had checked the patients, and we told them that we were going to take the patients to a safe facility."
Copyright 2018 Sun Sentinel