Death toll rises to 2 in N.Y. GloRilla concert stampede
The death of a second victim was confirmed Monday by Rochester Police; one injured person remains in critical condition
---
By Peter Sblendorio
New York Daily News
ROCHESTER, N.Y. — The death toll from a chaotic crowd surge after a concert in Rochester, N.Y., over the weekend rose to two as officials identified one of the victims.
Rhondesia M. Belton, who worked for Buffalo's traffic violations agency, died at a hospital, Buffalo Mayor Byron Brown announced. She was 33.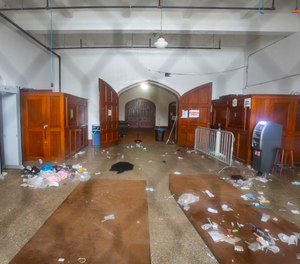 "Her family, friends, and colleagues are devastated and left to mourn this tragic loss," Brown tweeted. "Please keep her family in your thoughts and prayers."
The death of a second victim, only identified as a 35-year-old woman, was confirmed late Monday by Rochester Police. Eight people were also hurt in the stampede late Sunday at the Main Street Armory following a show headlined by the rapper GloRilla. One injured person remains in critical condition.
"As people began to exit, the crowd began to surge and rush toward the exit. There are some reports that shots were heard, causing the crowd to panic, but that has not been confirmed," Rochester Police Chief David M. Smith said Monday.
"We do not have any evidence of gunshots being fired or of anyone being shot or stabbed at the scene."
Authorities are investigating what caused the mayhem and vowed to hold accountable anyone responsible. It's unclear how many people were in attendance at the venue, which Smith says has a capacity of about 5,000.
"Preliminary reports from people at the scene indicate that these injuries were caused from people being trampled," said Smith, who listed crowd size and pepper spray among possible causes for the surge.
GloRilla, whose real name is Gloria Woods, is known for songs such as "F.N.F. (Let's Go)" and "Tomorrow."
"I am devastated & heartbroken over the tragic deaths that happened after Sunday's show," GloRilla, 23, tweeted late Monday. "My fans mean the world to me praying for their families & for a speedy recovery of everyone affected."
---

Read next:
Event planning best practices
"If you fail to plan, you are planning to fail"
---
©2023 New York Daily News.
Visit nydailynews.com.
Distributed by Tribune Content Agency, LLC.
McClatchy-Tribune News Service