Wis. EMS agency to build new building as part of proposed joint facility with fire department
The EMS and fire department are looking at building a new joint facility to address the spatial limitations
---
By Bridget Cooke
WiscNews
BARABOO, Wis. — Baraboo EMS Chief Dana Sechler took his current position a decade ago and remembers being told to prepare; a new building for the department would be coming soon.
After 10 years, preliminary plans look promising.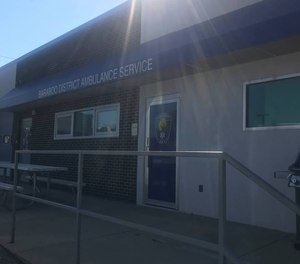 "We're very happy and excited to see what possibilities come," Sechler said. "People get excited about that; a new venture and a new building to look forward to. It re-energizes people."
The city is in its initial stages of the project. Requests were sent out for architects to put forward offers and eight were received. Within the last two weeks, Sechler said the city has conducted interviews as a way to "whittle" down to a final firm capable of designing a structure fit for the needs of the Baraboo Fire Department and EMS staff.
City Administrator Ed Geick said both departments need a new building because of spatial limitations.
"They've had housing needs for quite a while," Geick said.
Fire Chief Kevin Stieve said the building they currently use is not fit for today's firefighting requirements. The 62-year-old engine bay has its drawbacks. They also need more spacious rooms for meetings and to accommodate members of the department who stay overnight at the building.
"Space is definitely an issue," Stieve said, adding that "bringing the building up to today's standards" is a priority. He noted that fire trucks used now are also much different in size than those used when the department was built.
Sechler said there are about 50 people employed through Baraboo District Ambulance Service, with eight people on call for emergencies on each of the day's three shifts. There isn't a need for much more administrative space, but living quarters, which were converted from former office space in the main EMS building are "tight for who's there."
Even the ambulance bays leave little room for driver error as some of the vehicles must park inches from one another and the large doors. Narrow hallways connect bedrooms the size of college dormitory spaces and shelves throughout the building are lined with either personal items kept by staff during their time there, training materials or other equipment used by staff.
Sechler said his department has an "emphasis more on a functional building," rather than proximity to any specific part of the city. However, he said the fire department will also need to provide input and that volunteers who respond to calls from home may prefer a specific location.
During the decade of waiting, Sechler did see the city pursue possibilities. Geick said initially the city looked at moving the departments to the former city hall building, which was built in 1966. But upon further inspection, Geick said the age of the building would mean a number of upgrades to make it compliant for people with the laws outlined in the Americans with Disabilities Act.
He said the building would have outlasted its usefulness in another 30 to 40 years, and the city decided the money for compliance updates would be "better spent put into a new facility."
Geick said the city aims to hire an architect during the Baraboo Common Council meeting Aug. 13. After a firm is hired, the city can consult the two departments about how much space is needed and design can be formed. Geick said once a design is finished, a study can be conducted to identify the best location for a new building.
Stieve said it seemed like council members "set a clear vision" last year to construct a building in 2021 rather than in 2028 because of the needs of his department. He said the city has seen an opportunity to do things differently than it has and that together they "can open some doors."
———
©2019 WiscNews
McClatchy-Tribune News Service