Intense Calif. wildfires force hospital, jail to evacuate
Sutter Santa Rosa Regional Hospital started evacuating roughly 101 patients Saturday night to bring them to other facilities
---
Associated Press
SANTA ROSA, Calif. — Evacuations have hit a hospital and jail as authorities fight a Northern California wildfire that is spurring blackouts and forcing people out of neighborhoods.
The Sonoma sheriff's office says inmates at the North County Detention Facility in Santa Rosa was cleared Saturday and inmates were taken to be housed in Alameda County.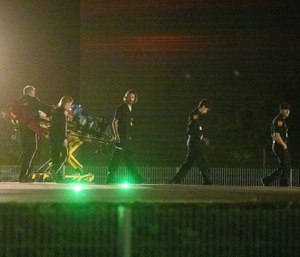 A Sutter Health statement says Sutter Santa Rosa Regional Hospital started evacuating roughly 101 patients Saturday night to bring them to other facilities.
Cal Fire says severe gusts expected early Sunday could push the fire miles ahead of the main blaze that's chewed through more than 40 square miles (104 square kilometers) of dry brush and timber.
Pacific Gas & Electric's blackouts intended to prevent fire-causing power line damage will impact millions while a huge swath of wine country is under evacuation orders.