Should EMTs, EMRs be allowed to draw up epi?
The price for a two-pack of EpiPens is currently $608; here's a roundup of states that allow EMS personnel to draw up epi from an ampoule or vial
---
The price of EpiPens has become an explosive mainstream media issue.
Last night on the Emmys, host Jimmy Kimmel made a joke about the recent price hike for the life-saving medicine. In the segment, Kimmel's mom made peanut butter and jelly sandwiches for the audience.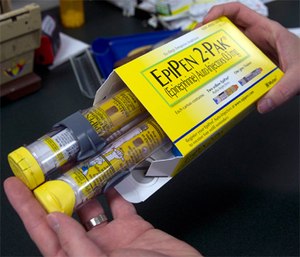 "If you're allergic to peanuts, uh, well … I guess this is goodbye, because we can only afford one EpiPen," Kimmel said.
The price for a two-pack of EpiPens is currently $608. Part of the response to the increased price has been amplified authorization for EMTs, emergency medical responders and even lay people to give epi by drawing up the medication from an ampoule or vial.
Here's a roundup of states that currently allow EMTs and Emergency Medical Responders to draw up epi.
1. New Ill. law to allow all EMTs to use syringes to administer epinephrine
The new law will allow EMTs with basic-level training to use a syringe to administer epinephrine.
2. Over 400 NY agencies participating in EpiPen replacement program
Following the example of Washington State, a pilot program is testing phasing out EpiPens in EMS.
3. Ohio health network suggests EpiPen alternatives
Opponents suggest training non-medical personnel to use a vial and syringe to inject epinephrine could be risky.
4. Wash. EMTs using cheaper 'Epi Kit' instead of EpiPen
Program has saved King County EMS $150,000 and along with training epi use has more than doubled.
5. Wis. EMS board discusses use of epi at EMR level
The Wisconsin Department of Health Services reviewed the board's recommendations and approved the use of draw up epi.
6. Texas paramedics using EpiPen alternatives after price hike
One option is epinephrine injection; the alternative costs less than $50, while others are less than $100.
7. Va. EMS agencies find alternative to EpiPens
A paramedic will break open the ampoule, use a filter connected to a syringe to make sure there are no glass particles, and then connect a needle to go into the muscle to give the patient the epinephrine.
8. SC EMTs get green light for epinephrine alternative
The changes allow EMTs to administer epinephrine by injection, meaning the drug is drawn into a needle from a vial, as opposed to using an auto-injector like the EpiPen.
Does your state allow EMTs and Emergency Medical Responders to draw up epi from a vial or ampoule? If so, sound off in the comment section.