Over 400 NY agencies participating in EpiPen replacement program
Following the example of Washington State, a pilot program is testing phasing out EpiPens in EMS
---
By EMS1 Staff
SCHENECTADY, N.Y. — Mohawk Ambulance Service has announced its participation in the "Check & Inject NY" program to phase out the use of epinephrine auto-injectors.
The program, a joint effort between the NY State Emergency Medical Advisory Committee, NY State Department of Health and the Bureau of EMS and Trauma Systems, aims to save money by replacing brand name EpiPens with Syringe Epinephrine Kits.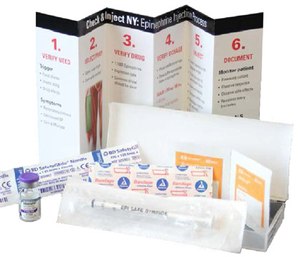 "We appreciate New York State and the physicians on the SEMAC for recognizing the challenge the cost of EpiPens presented and providing this project to address the issue," James P. McPartlon III, President of Mohawk Ambulance Service said.
EpiPens are the most common type of emergency auto-injector used to treat anaphylactic shock and severe allergic reactions. Its price has jumped from $35 per dose to over $450 per pen, resulting in huge cost increases for emergency medical services agencies to stock the device. Mohawk Ambulance reports that keeping four EpiPens on each ambulance costs about $1,800 a year.
A vial of epinephrine, on the other hand, costs just a few bucks per dose.
Mirroring programs in Washington State, Salt Lake City and Illinois, officials say "Check & Inject NY" has already seen more than 400 agencies in the area purchase the Syringe Epinephrine Kits, saving thousands per year on epinephrine delivery systems.