1 killed when storm slams tent down on festival crowd
3 others were seriously injured when a sudden storm blew a tent off its moorings at an event near Chicago
---
By Don Bawin
Associated Press
CHICAGO — A man was killed and more than a dozen injured on Sunday when a tent where people had sought shelter during a brief storm blew off its moorings and collapsed on some of the crowd at a festival in a Chicago suburb.
Mike Rivas, deputy police chief in the suburb of Wood Dale, said three people were seriously injured. Fifteen people were transported to hospital and others slightly injured were treated at the scene and released, Wood Dale police said in a statement posted on Facebook.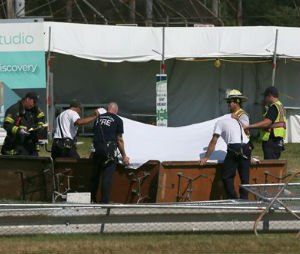 The fatality was identified as Wood Dale resident Steven Nincic, 35.
The incident happened at midafternoon when a sudden storm brought high winds, hail and rain to the annual Prairie Fest, Rivas said.
"People sought shelter under the tent and then it hit," he said of the storm.
The tent was ripped from its moorings and fell on some people, said Craig Celia, a spokesman for Wood Dale, which is about 25 miles northwest of Chicago. The remainder of the festival's final day was canceled, he said.
Photos of the scene showed police and fire officials holding up a sheet over the body. Chairs, tables and other debris were strewn on the grass near where the tent collapsed.
Tracy Anderson, whose husband is a member of a band that was scheduled to perform there Sunday, said her husband witnessed the huge tent blow up in the air and land.
"The tarp landed on several people, and rescuers started cutting holes to get them out," Anderson told the Chicago Tribune.
The annual celebration known as the Prairie Fest is a four-day event with food, live music, a carnival and fireworks. Thousands of people attend and there were around 5,000 there on Saturday night, said a city council member for the area, Art Woods.
Rivas said that luckily the festival was not yet very crowded on Sunday afternoon because the band was doing a sound check and had not started.
The Chicago area was hit by two waves of storms on Sunday that brought high winds, rain and hail.
The popular Lollapalooza music festival in Chicago's Grant Park briefly shut down Sunday afternoon due to the weather, then resumed less than an hour later. Organizers ended the final day of the festival 30 minutes early Sunday night when another storm hit the area. Some 89,000 fans safely exited the grounds after the weather alert, the festival promoter said.