Marvel partners with Pa. health system to create EMS comic book
"The Vitals: True EMS Stories" tells the stories of EMS providers serving their community through the height of the COVID-19 pandemic
---
By Laura French
PITTSBURGH — Marvel Comics has partnered with a health system in Pennsylvania to create a comic book that tells the stories of EMS providers serving their community at the height of the COVID-19 pandemic. 
"The Vitals: True EMS Stories" was unveiled Monday by Marvel and the Allegheny Health Network (AHN). Set in winter 2020, the comic is based on the real experiences of eight AHN EMS providers who were nominated by their coworkers to be featured.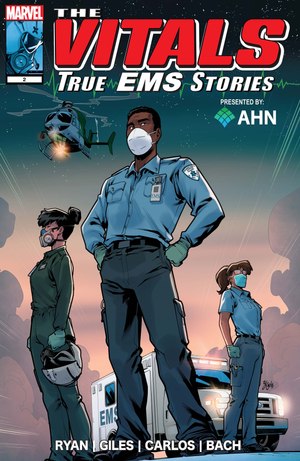 "We are thrilled to see our EMS providers portrayed as the heroes they truly are, and we hope seeing 'The Vitals: True EMS Stories' gives them a moment of pride at the remarkable work they have done over the past year," said AHN Prehospital Care Services Vice President Robert Twaddle, in a statement. 
The comic book will be available in digital format through the Marvel and AHN websites. AHN previously collaborated with Marvel on "The Vitals: True Nurse Stories" in December 2020, which depicted the true stories of AHN nurses. 
"Just like in Marvel comic books, we see each of these stories as a chance to experience the heart and drive behind the heroes working tirelessly to save lives," stated Marvel Entertainment President Dan Buckley. "After the incredible reaction we saw from our first comic book with AHN and Doner, we knew these stories were truly special. We are honored to help AHN tell more of these stories, which now give us another glimpse into the world of healthcare heroes saving millions of lives every day."