Innovative 911 technology discussed at EMS Today session
The alternative triage pilot program is designed to identify non-emergent medical 911 calls and redirect them to more appropriate sources of medical care
---
By Jamie Thompson
EMS1 Senior Editor
BALTIMORE — One agency's use of innovative technology to reduce the burdens on 911 and EMS came under the microscope at EMS Today in Baltimore on Thursday.
Louisville Metro EMS launched Priority Solutions Integrated Access Management (PSIAM) last year. The alternative triage pilot program is designed to identify non-emergent medical 911 calls and redirect them to more appropriate sources of medical care.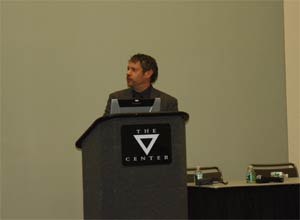 Neal Richmond, chief executive officer at the agency, explained to attendees how the system has seen several area of success since its launch.
The technology, which is also being used in England and parts of Australia, is designed to provide alternate triage of patients assessing the 911 system for low-acuity medical concerns and offer a timely, safe referral of these patients to alternative non-acute sources of medical care.
Its launch in Louisville, according to Richmond, is in response to the health care issues that affect the whole county.
The session was told how the United States leads the world in health care costs but lags behind in terms of quality of care and health outcomes.
Among the statistics outlined during the presentation were:
27 percent of patients with hypertension have adequate blood pressure control
17 percent with coronary artery disease meet guidelines for cholesterol
86 percent of adults will be overweight or obese by 2036 at the current rate
In addition, the most frequent ER users — those who go to the ER more than four times a year — account for 28 percent of all ER visits but only 8 percent of all ER patients.
"Put all of this information together, then 911 resources are not going to be available for the people who need it the most," Richmond said.
Because PSIAM is a relatively new concept in the United States, Richmond said his agency moved slowly and cautiously when rolling out the new system.
"We are talking about delaying care," he said. "We didn't want this to go bad. All it needs is for one person to be hurt and it will be on the front page of the newspaper. We said let's be really careful and slow about it."
One of the reasons the model is widespread in England, Richmond said, is the fact ambulances are "incentivized" not to bring patients to the emergency room — each time a patient is trucked, a fee of up to 160 dollars is levied by the hospital against the EMS agency.
Its launch in Louisville was in response to the ever increasing number of non-life threatening 911 EMS calls; an issue that is widespread nationwide with the two main aims being triage to non-acute community medical resources, more appropriate patient care and better continuity of care.
"It's not primarily about reducing costs or inappropriate use of 911, it's about getting patients appropriate and timely care," Richmond said.
Patient satisfaction surveys have been positive so far, the session was told, with feedback including:
89 percent of respondents surveyed reported they were very satisfied with how the PSIAM nurse handled their call
88 percent said the nurse understood their problem very well
91 percent were very satisfied with the nurse's ultimate recommendation