PRESS RELEASE
New KIMTEK Website Targets Brush Truck Market
---
ORLEANS, Vt. — KIMTEK Corporation, the world leader in off-road fire rescue skid units for UTV side-by-sides and pick-up and flatbed trucks, has announced the launch of its new website dedicated to the needs of firefighting agencies using pick-ups and flatbed trucks for off-road wildland firefighting.
The new website, www.brushtruckskids.com, can be accessed directly or linked via the company's main website, www.kimtekresearch.com.
The new site features the company's FIRELITE Transport Series of high quality, affordable fire skid slip-on transport units equipped with lifetime-warrantied copolymer water tanks, Honda driven Darley-Davey pumps, Hannay reels, and Scotty Foam Systems. Available in multiple configurations, they feature all aluminum diamond plate construction, stainless steel piping and are available with storage areas, patient rescue areas, or with fully enclosed brush fire equipment boxes and pre-connected cross lay trays.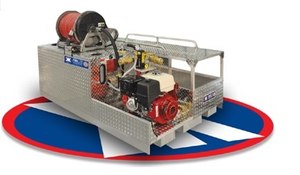 KIMTEK expertly designs and builds FIRELITE units in Vermont to the specifications of firefighting agencies, industrial complexes, sports venues, agricultural ranches, and other organizations requiring affordable, all inclusive skid slip-on units that rapidly transform their pick-up and flatbed trucks into effective brush trucks.
About KIMTEK Corporation
KIMTEK Corporation is the largest producer and marketer of ATV/UTV-specific skid units for public safety agencies in the U.S. KIMTEK's FIRELITE® fire and rescue skid units and MEDLITE medical skid units are now in service in all fifty states, seven Canadian provinces and one territory, all branches of the military including in Afghanistan with the U.S. Army, the National Park Service, numerous NASCAR tracks, sporting complexes, schools, universities and in several countries worldwide. KIMTEK Transport skid units are made in the USA. Founded in 1984 as a research and development company dedicated to advances in life safety technology in the fire sciences, KIMTEK Corporation manufactures and markets a full line of FIRELITE and MEDLITE Transport skid units for emergency service UTVs and pick-up trucks.
For more information, please contact KIMTEK at 888-546-8358 or visit the company's website at www.kimtekresearch.com.