PRESS RELEASE
Masimo Unveils EMMA Mainstream Capnograph for Enhanced Assessment of End-Tidal Carbon Dioxide
---
Irvine, California – Masimo, inventor of breakthrough Measure-Through Motion and Low Perfusion pulse oximetry, today announced the release of EMMA™ Capnograph with waveform display, offering clinicians greater assessment of end-tidal carbon dioxide (EtCO2) and respiration rate, as well as assisting in recognition of return to spontaneous circulation, for a variety of clinical settings, including emergency medicine and transport, ORs, ICUs, patient rooms, and clinics.
Masimo EMMA™ Capnograph.
Rugged, water-resistant and operational in first-responder and other clinically challenging conditions, EMMA Capnograph displays and monitors respiratory rate and EtCO2 continuously with full accuracy within 15 seconds when connected to a patient's breathing circuit. Powered by two standard AAA bat2teries, EMMA's portability allows for easy use during cardiopulmonary resuscitation (CPR) and intubation in multiple points of care.
EMMA's proprietary hydrophilic coating prevents water droplets from optically interfering with the device's internal infrared beam that helps detect EtCO2. This obviates the need for heaters, while enabling faster start-up with no warm-up period and far less power consumption. And because EMMA is integrated into the breathing circuit for easy viewing during CPR and endotracheal tube placement, it is highly accessible during transport and/or emergency ventilation scenarios – allowing quick assessment in just seconds for adult, pediatric, and infant patients.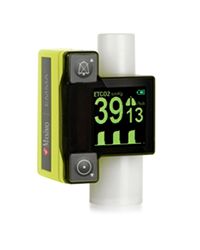 "Masimo's EMMA capnograph with this improved continuous waveform display gives immediate and continuous confirmation of endotracheal tube placement, even during cardiac arrest, making it compliant with AHA/ILCOR recommendations," said Dr. Daniel Davis, Professor of Clinical Emergency Medicine, and Director of the UCSD Center for Resuscitation Science in San Diego, California. "In addition, EMMA can guide ventilation in critically ill and injured patients and allows assessment of the adequacy of cardiopulmonary resuscitation and identification of return of spontaneous circulation. The small size also makes it ideal for critical resuscitations by allowing waveform capnography to be brought to the patient."
About Masimo
Masimo is the global leader in innovative noninvasive monitoring technologies that significantly improve patient care—helping solve "unsolvable" problems. In 1995, the company debuted Measure-Through Motion and Low Perfusion pulse oximetry, known as Masimo SET®, which virtually eliminated false alarms and increased pulse oximetry's ability to help clinicians detect life-threatening events. More than 100 independent and objective studies have shown that Masimo SET® outperforms other pulse oximetry technologies, even under the most challenging clinical conditions, including patient motion and low peripheral perfusion. In 2005, Masimo introduced rainbow ® Pulse CO-Oximetry™ technology, allowing noninvasive and continuous monitoring of blood constituents that previously required invasive procedures; total hemoglobin (SpHb®), oxygen content (SpOC™), carboxyhemoglobin (SpCO®), methemoglobin (SpMet®), PVI®, and perfusion index (PI), in addition to measure-through motion SpO2, and pulse rate. In 2008, Masimo introduced Patient SafetyNet™, a remote monitoring and wireless clinician notification system designed to help hospitals avoid preventable deaths and injuries associated with failure to rescue events. In 2009, Masimo introduced rainbow® Acoustic Monitoring™, the first-ever commercially available noninvasive and continuous monitoring of acoustic respiration rate (RRa™). Masimo SET® and Masimo rainbow® technologies also can be found in over 100 multiparameter patient monitors from over 50 medical device manufacturers around the world. Founded in 1989, Masimo has the mission of "Improving Patient Outcome and Reducing Cost of Care by Taking Noninvasive Monitoring to New Sites and Applications®." Additional information about Masimo and its products may be found at www.masimo.com.

Request more info from Masimo Corporation
Thank You!